7 SUMMER ESSENTIALS YOU SHOULD KNOW ABOUT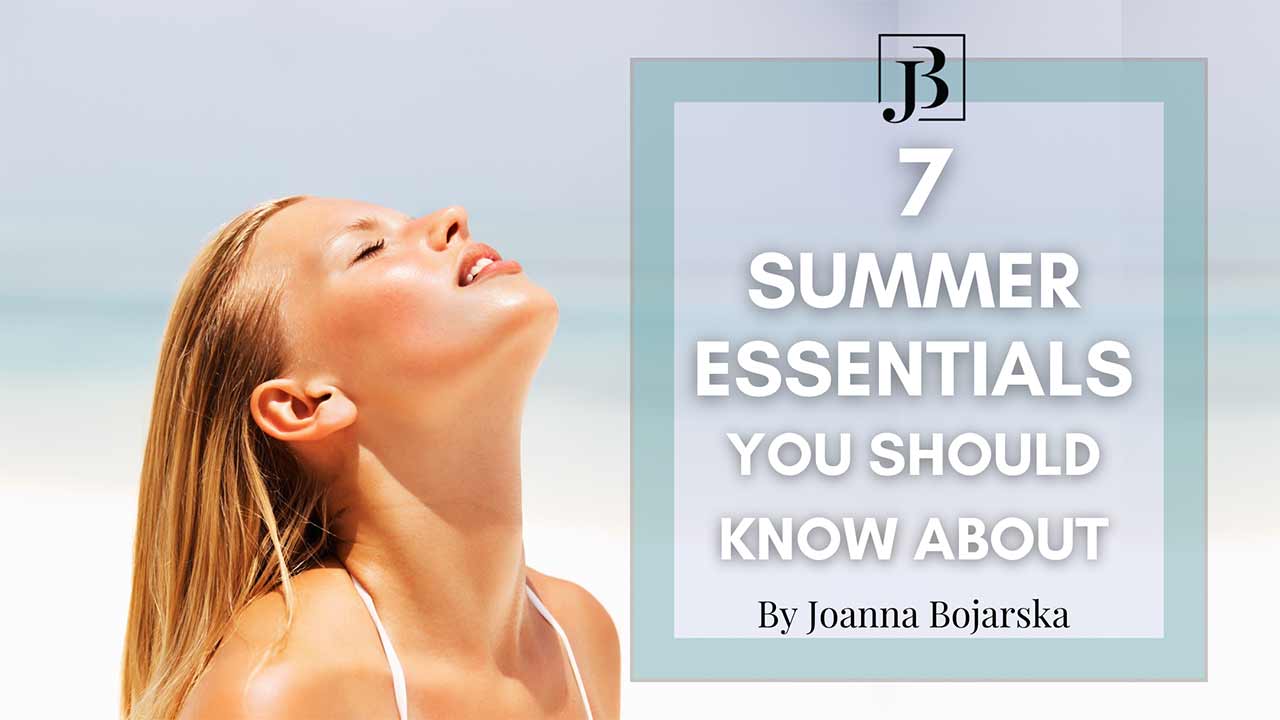 I am a professional beauty therapist and non-invasive aesthetic practitioner with an advanced knowledge of the beauty industry.
Summer…holidays, sunny weather, travels, outdoor lifestyle with your family and friends or just on your own with your favourite book and a tropical cocktail in your hand….whatever is your version of the summer season it usually brings positive vibes and great memories.
In this blog I want to share with you my 7 ABSOLUTES MUST HAVE ESSENTIALS for the SUMMER SEASON.
I am also aware that essential can mean different things to different people, however in this article, I will talk about products and services I have tried and tested, and in my opinion, they can help you enjoy these sunny days even more.
1. GUARD THIS SKIN WITH SPF (SUN PROTECTION)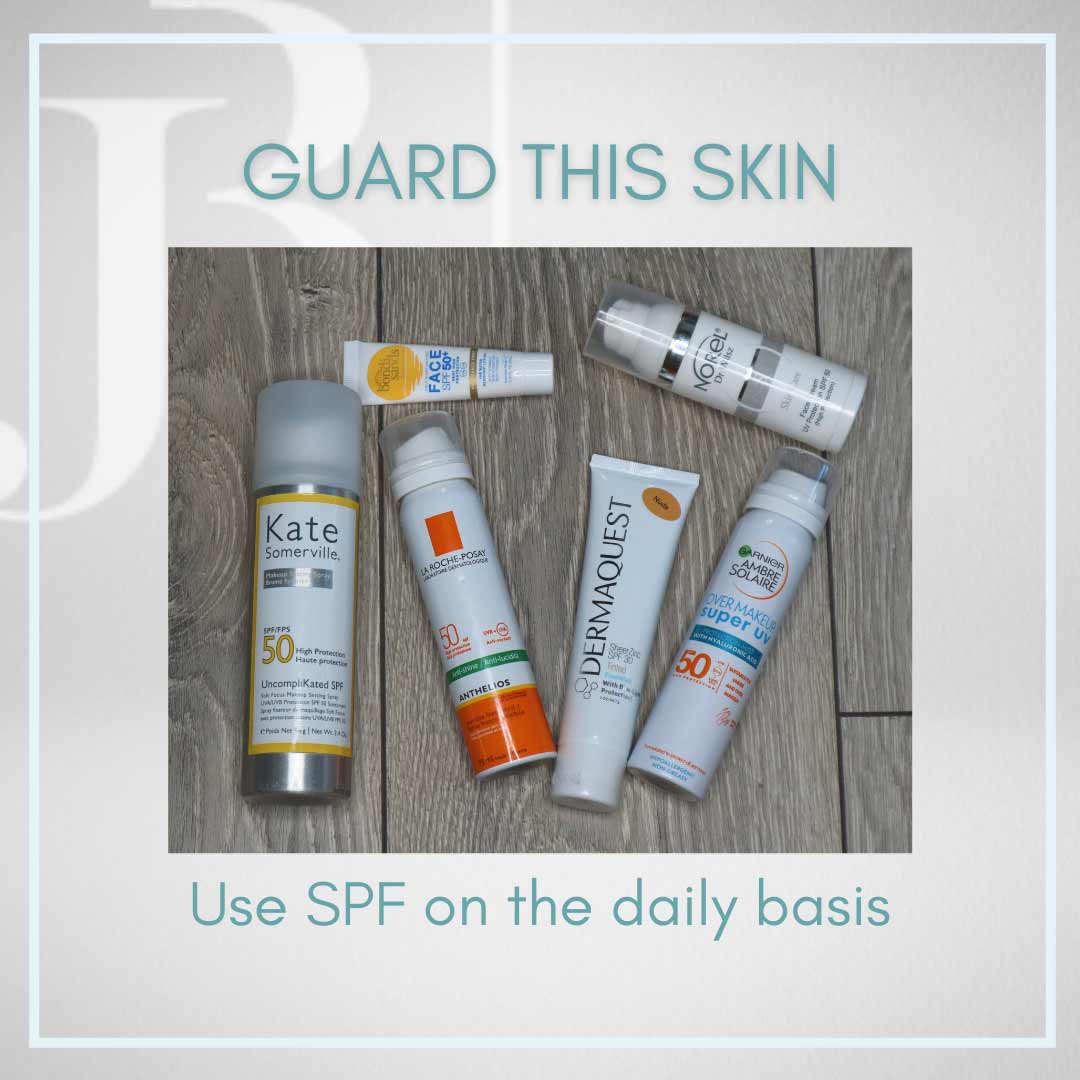 Of course, sun protection must come first on my list of essentials.
In this article, I don't want to go into detail about sun protection itself, as I've done a whole separated video dedicated to this topic, as well as, an article on my Beauty Blog, so I recommend having a look if you wish to hear and read more about sun protection.
Sun protection or rather UV rays' protection is very important all year round, outdoors, indoors, hot, cold, no matter what season we are in, we always need a good layer of sun protection. It took me a while to find my perfect SPF, as I have certain expectations when it comes to sun protection products.
For me, when it comes to my face, I use at least a factor of 30, if not 50, the formula also matters quite a lot; with my quite oily-combination skin, I need a lightweight formula with matt / satin finish.

DermaQuest SheerZinc SPF30 (various shades) £49.00 – available to purchase at my beauty studio Beauty by Joanna Bojarska.
It is a 100% physical sunscreen suitable for all skin types and conditions
Zinc Oxide has natural healing properties which will protect the skin proteins from being broken down by UV exposure.
Elix-IR prevents the damaging effect of inflammation to the skin from the ageing process and any free radical damage caused by smoking or the environment
Blue Light Protection
Norel Dr Wilsz UV Protection Cream SPF50 (transparent)- £24.00 – available to purchase at my beauty studio Beauty by Joanna Bojarska.
It is a lightweight, protective cream with UVA/UVB SPF50 filters for all skin types.
mineral and a chemical blend of filters UVA and UVB,
SunBoost ATBTM – bisabolol, vitamin, argan oil – which will help the skin regenerating process, it will calm and moisturise.
Sun Protection Top Ups – for the daily top-ups of my sun protection I usually use the spray form; Garnier, La Roche- Posay, Kate Somerville
2. SCALP AND HAIR UV PROTECTION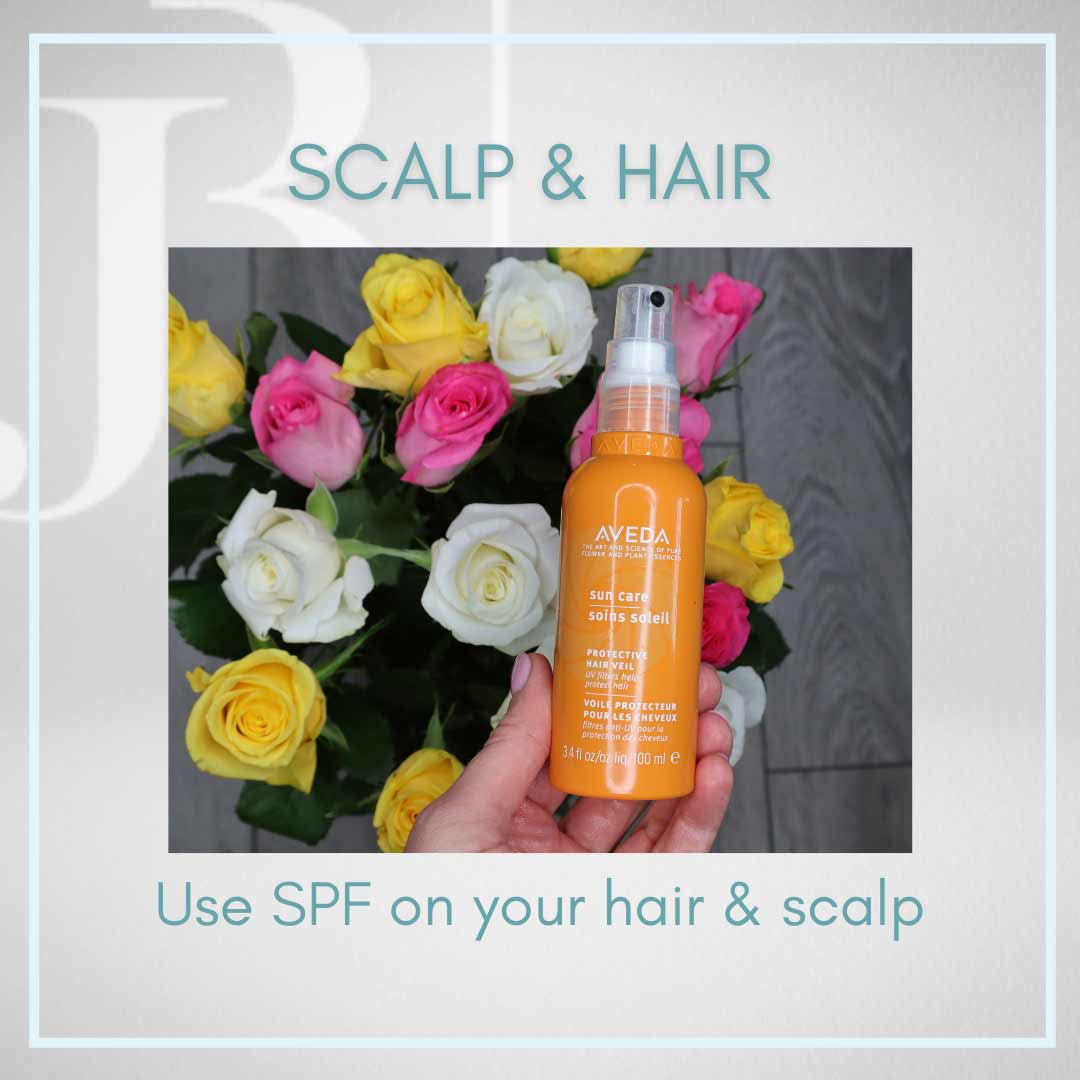 I am pretty sure, that many of us not once or twice suffered from a burnt scalp. We simply forget to wear a hat or we've chosen not to, and then we ended up with a red itchy scalp and then loads of flaking. To prevent this from happening you can use a protective spray like the protective shield spray from Aveda, it will not only protect your hair against the UV rays but also your scalp. I think a little spray like this is worth adding to your summer essentials bag.
3. SOOTH AND REGENERATE THE BODY AFTER SUN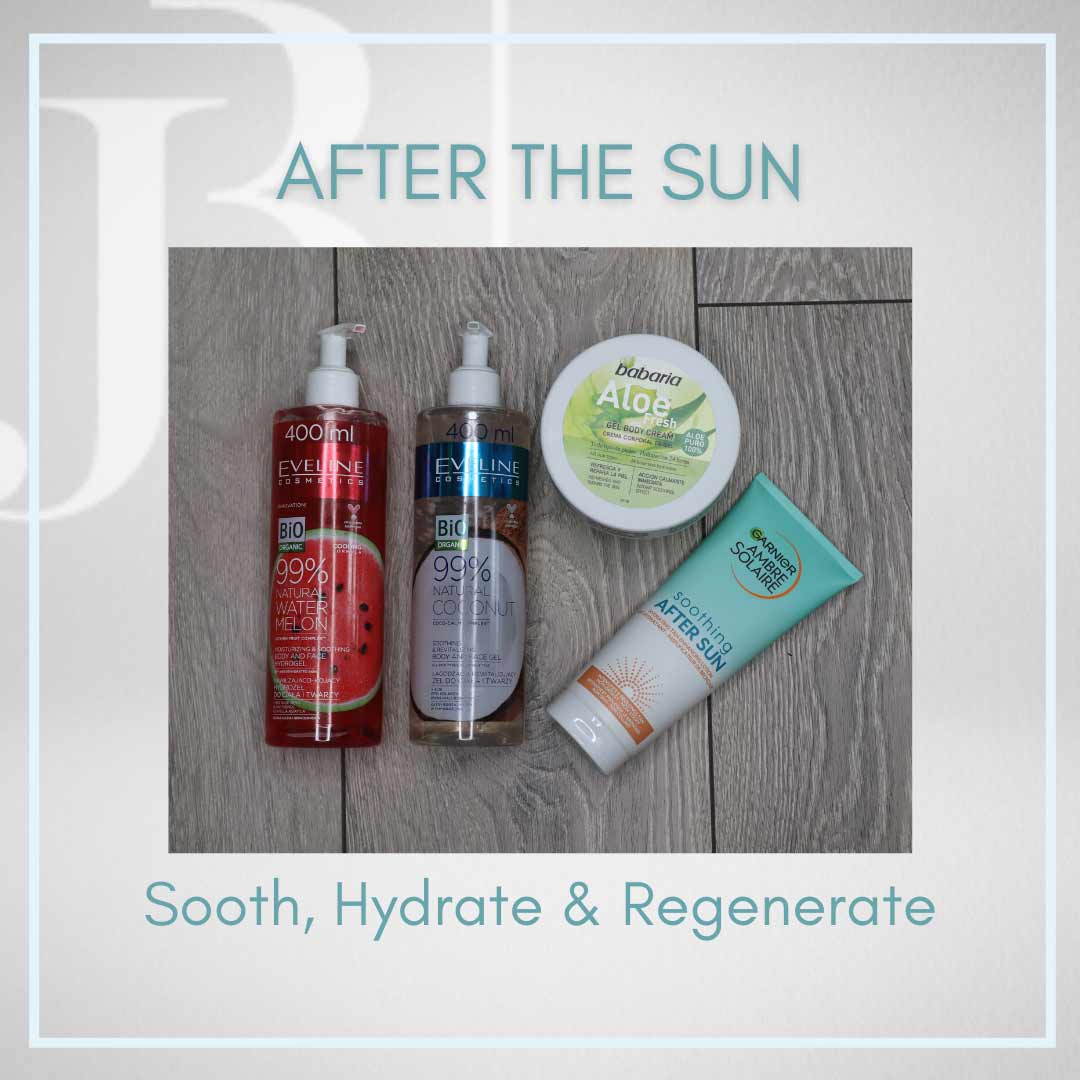 You will find a vast choice of after-sun lotions, gels and creams on the market these days, which will help calm, soothe and regenerate your skin after a sunbath.
The ingredients you want to look for are;
Aloe vera
Hyaluronic Acid
Allantoin
Panthenol
Lipids
Glycerin
4. SELF-TANNERS – HEALTHIER TANNING OPTION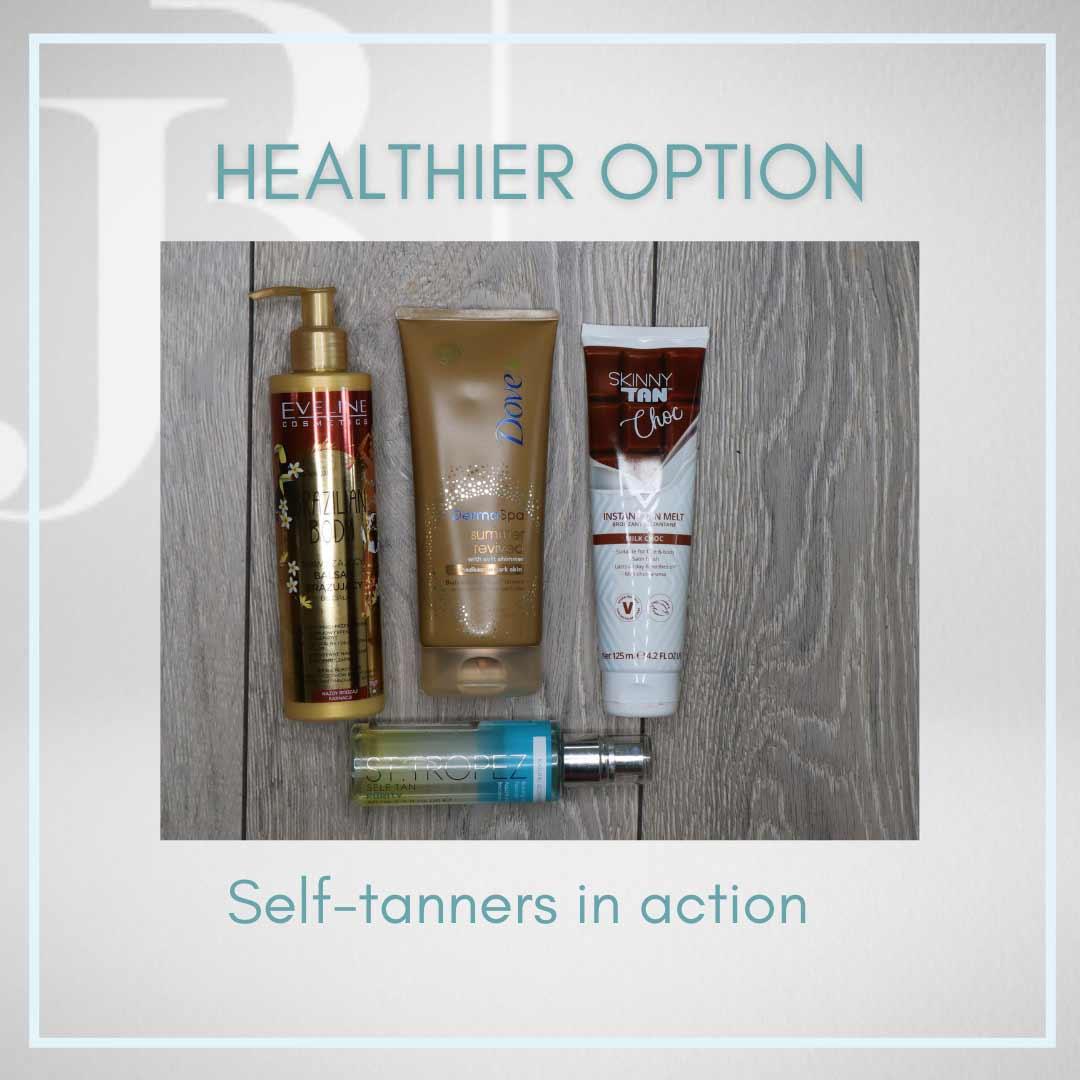 Staying on the topic of the bronzed and tanned body, in the last 2 or 3 years, I have totally converted from sunbaths to self-tanners. Using a good self-tanning product like a mousse, lotion or gel you get equally great results without risking any skin damage or sunburns.
I would personally recommend starting with a gradual tan product (Dove Summer Revived or Eveline Cosmetics Brazilian Body). It might not give you the darkest tan, to begin with, but if you've never used self-tanning products in your life that might be a good introduction.
As for the regular tanning products, remember that body preparation is crucial to get the even tan results.
Body scrub and well-hydrated skin are essential before sun tan application.
5. WELL-HYDRATED SKIN IS HEALTHY SKIN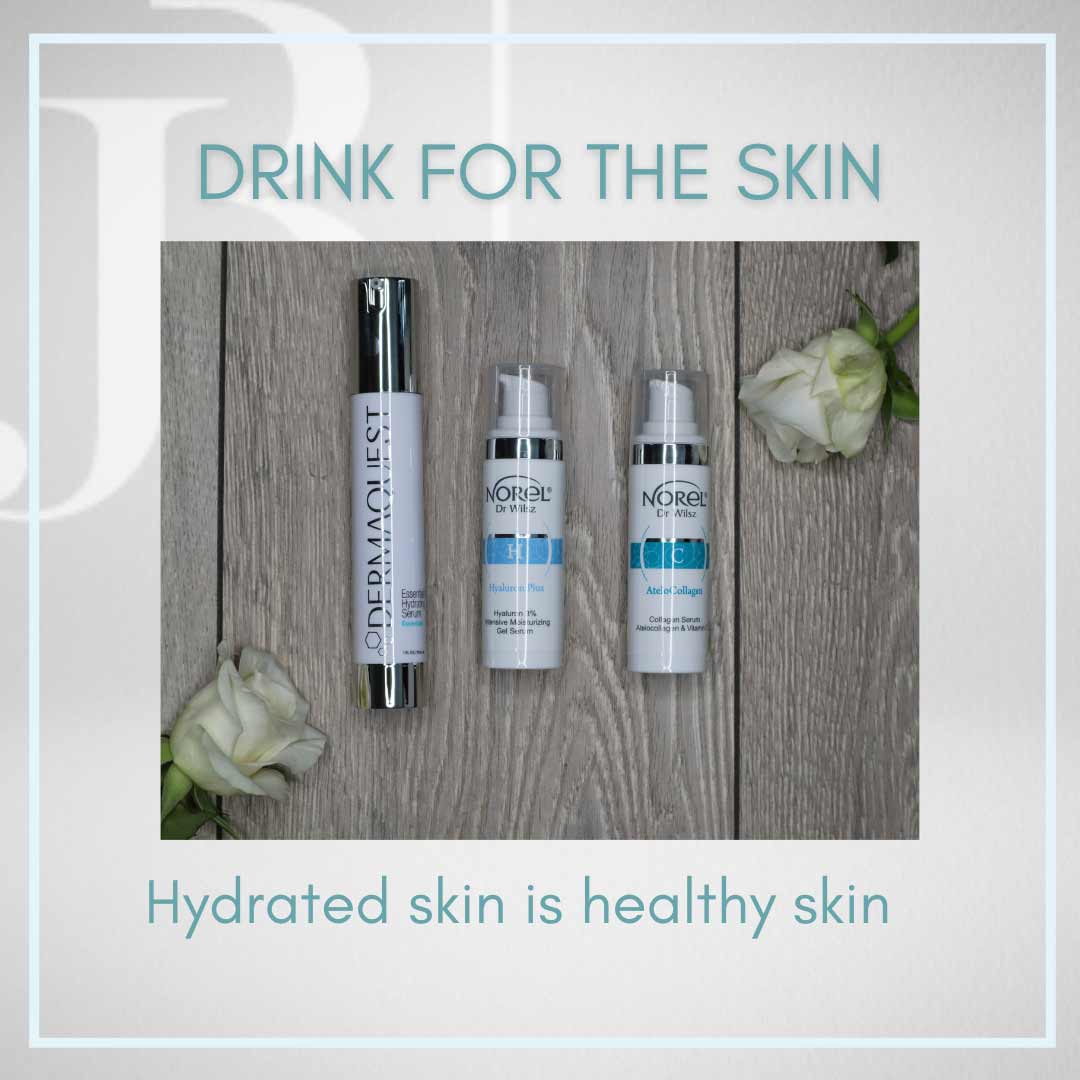 Hydration is important all year round, but it is essential during the summer.
Make sure you have a nice deeply hydrating serum in your skincare routine and you use it at least once a day, preferably twice a day.
My favourite picks:
DermaQuest Essential B5 Hydrating Serum £69.00 – available to purchase at my beauty studio Beauty by Joanna Bojarska.
Multiple awards-winning serum, which is described as hydration in a bottle – equivalent to 8 glasses of water drink for the skin.
Sodium Hyaluronate – low-molecule hyaluronic acid. Bind moisture and water to the skin.
Vitamin B5 – panthenol – deeply hydrating, keeps skin smooth, soft and healthy
Ferulic Acid – a very well-known antioxidant, helps to protect overall skin integrity by reducing the development of fine lines, spots, and wrinkles
MDI complex – matrix inhibitor – creates the support in the dermal layers to reveal a supple and tighter complexion
Norel Dr Wilsz Hyaluron Plus 3% – Intense Moisturising Gel Serum £24.00 – available to purchase at my beauty studio Beauty by Joanna Bojarska.
Great for all skin types, including the eye area. Deeply moisturizes the skin, making it smoother and more elastic. Penetrates the epidermis to bind and retain moisture for a long time
1% Hyaluronic Acid – great hydrating properties for the superficial layers of the epidermis
2% Sodium Hyaluronate – low-molecule hyaluronic acid. Binds and retains moisture for a long time.
Norel Dr Wilsz Collagen Serum with Atelocollagen & Vitamin C £29.00 – available to purchase at my beauty studio Beauty by Joanna Bojarska.
This is a hydro-gel face serum for all skin types, but especially dry, with rough signs of tiredness and exposed to accelerated ageing (UV, smog, fumes). The unique selection of active ingredients, in the highest doses, smooths, moisturises, detoxifies and remineralizes, providing instant results- silky smoothness, reduced visibility of fine lines and wrinkles with a fresh and rested look.
Atelocollagen – native form of collagen, where telopeptides were removed – strongly moisturises and binds water on the skin's surface. Improves smoothness and elasticity of the skin. Skin becomes like baby skin, smooth and soft.
Triple Hyaluronic Acid (SMW, LMW, VLMW) multilevel hydration and water absorption
Vitamin C in the newest and most efficient form VC-IP – strong antioxidant with some amazing brightening properties
Phytoplankton – rich in oligo-elements, free amino acids, polysaccharides and phospholipids – great regeneration and conditioning properties
Panthenol
If you would like to hear more about the Atelocollagen Line and see the products in action, I would highly recommend watching one of my latest videos on the YouTube channel, where I present to you my THE BEST SUMMER FACIAL.
Link to the video 
So yes hydration is very important when it comes to the summer season and obviously, you will also need a nice moisturiser but here depending on your skin-specific needs, you can choose accordingly.
6. GIVE YOURSELF A GOOD SCRUB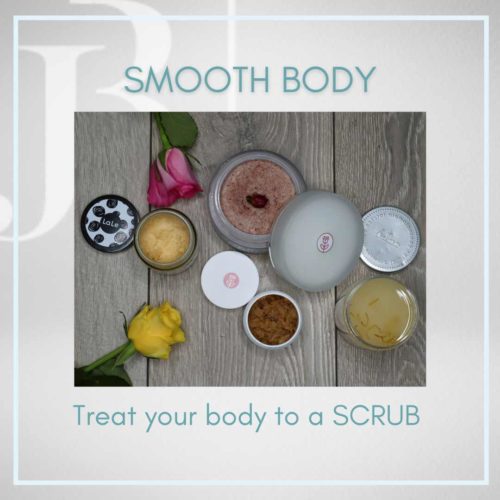 I always recommend regular body scrubs, and by regular, I mean once a week or at least once in two weeks. Body scrubs will not only smooth the texture of your skin but will also prevent any ingrown hair, in case you wax or shave your body. It will also make your fake or natural tan more even. And whenever you scrub your body make sure you properly scrub your elbows, your knees and also your feet.
How to make your own body scrub?
Watch this video
7. THE FINISHING TOUCHES- IMMACULATE FEET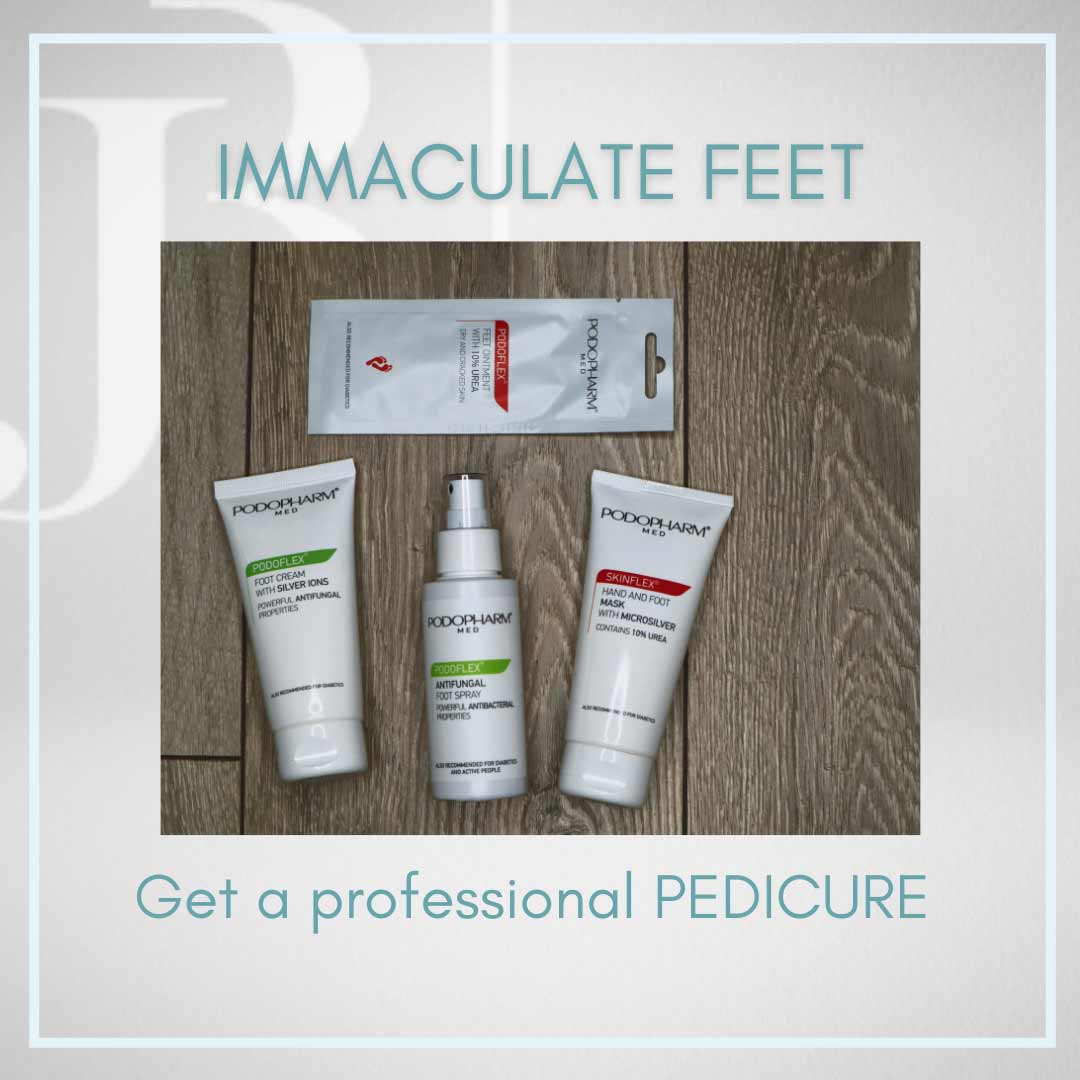 During summer we uncover our feet, we wear sandals, open-toe shoes, flip flops etc so I think it is worth taking care of our feet as well. And here I would highly recommend a professional pedicure, where the specialist will take care of your soles, dry skin, and your toenails and if you wish to you can also beautifully paint your toenails.
But if for example, you don't wish to use professional services when it comes to your feet, then I would highly recommend regular foot scrubs, a good deeply hydrating and regenerating foot cream and a little toenail trim, just please stay away from any exfoliating socks or masks, as they can cause loads of problems later.
My favourite picks
Podopharm Podoflex Antifungal Foot Spray £15.00 for everyday antifungal prevention for the feet. Perfect for anybody practising sports or using swimming pools. Recommended for diabetics. Vegan Friendly
Podopharm Podoflex Foot Cream with Silver Ions £15.00 – available to purchase at my beauty studio Beauty by Joanna Bojarska.
Recommended for everyday foot care for people practising sports, travelling, living an active life and adolescents. Recommended for diabetics.
Podopharm Podoflex Feet Ointment with 10% Urea £11.00 – available to purchase at my beauty studio Beauty by Joanna Bojarska.
Recommended for the treatment of feet with a tendency to hyperkeratosis, calluses or cracking. Great for softening nail folds. Recommended for diabetics. Vegan Friendly.
These are my leading 7 summer essentials, which can help us feel and look good, healthy and protected, so we can enjoy these summer months safely.
Wishing you all a beautiful and sunny summer season!
Joanna