SUN PROTECTION – everything you should know about it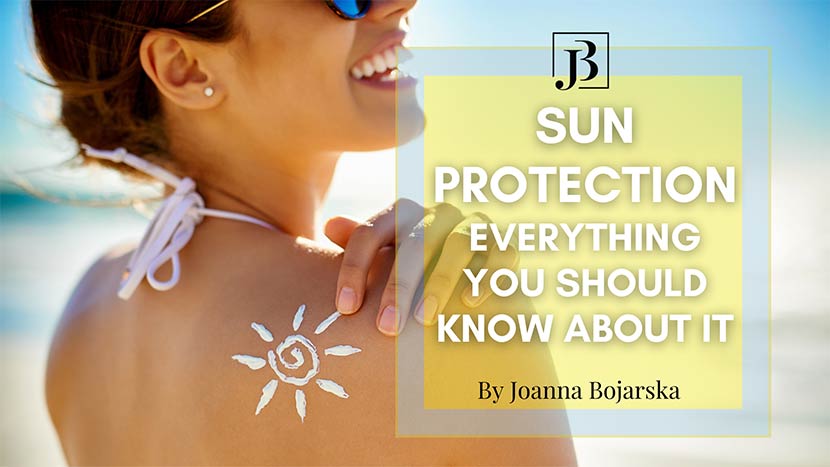 I am a professional beauty therapist and non-invasive aesthetic practitioner with an advanced knowledge of the beauty industry.
Sun protection is such a huge subject, especially now, when we are at the beginning of the summer season.
Most of us know by now, that we should take skin protection very serious – all year long, but it's becoming even more important during the sunny days.
But it's not only the sun that we should protect our skin from; blue light from electronic devices like mobile phones and computers, pollution, red light, all these can damage our skin and make it age a lot quicker.
Photodamage
Photodamage can cause skin dehydration, premature ageing, fine lines and wrinkles, uneven skin tone, hyperpigmentation, melasma, or even worse- skin cancer.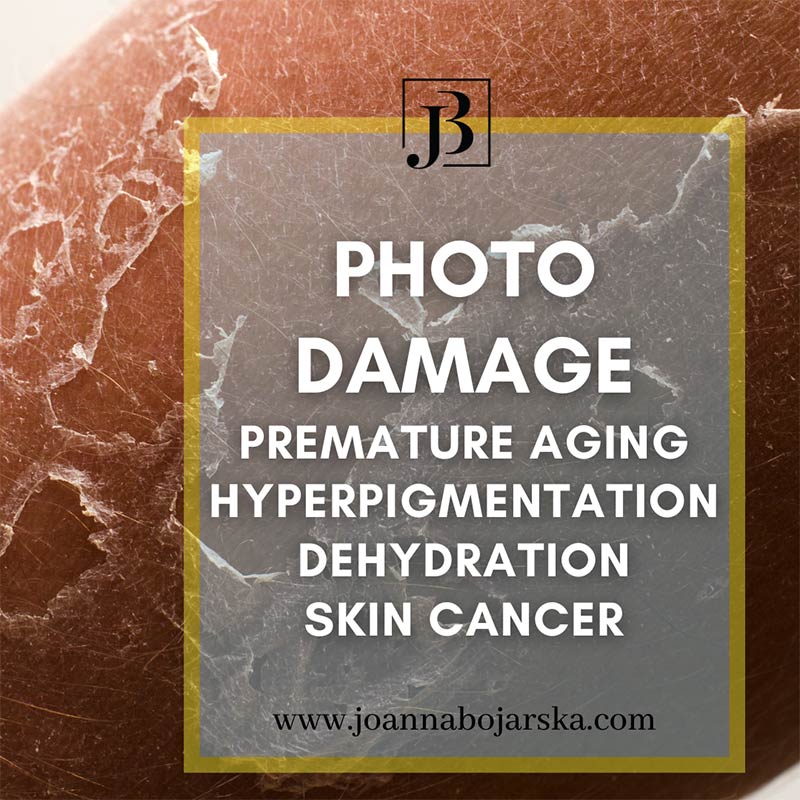 Ok so, which protection will be the best? What SPF to use? What do those funny names like PA +++, HEV, IR mean? How and when we should apply our sun protection?
In this article, I will answer all these questions for you, so you can enjoy the summer to the fullest without the fear of damaging your skin.
CHEMICAL Vs. MINERAL FILTERS
On the market, we have a few kinds of SPF filters, chemical ones, mineral ones, and hybrids.
Chemical filters(also known as organic filters) absorb UV rays, breaking them down and releasing them as heat, while mineral blockers (also known as physical) act as a physical barrier on the skin, reflecting UV light. These days we can also find hybrids of those two types of filters, where producers mix them to achieve the best, high quality and performance products.
Good chemical filters to look for in your SPF products
Tinosorb S (INCI: Bis-ethyl-hexyloxyphenol methoxyphenyl triazine)
Tinosorb M (INCI: Methylene bis-benzotriazolyl tetramethylbutyl-phenol)
Mexoryl SX (INCI: Terephthalylidene dicamphor sulfonic acid)
Mexoryl XL (INCI: Drometrizole trisiloxane, Ecamsule)
Uvinul A Plus (INCI: Diethylamino hydroxybenzoylhexyl benzoate)
Mineral filters
Zinc Oxide
Titanium Dioxide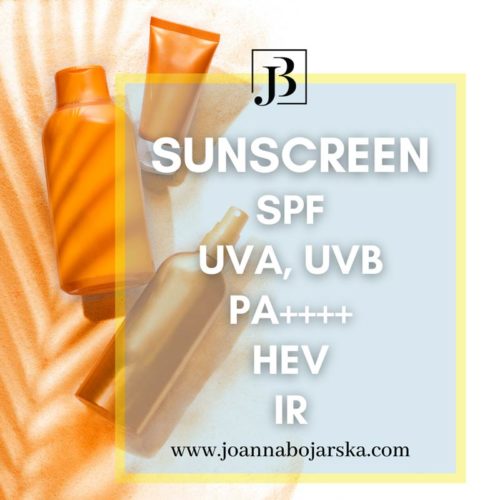 WHAT SPF50 REALLY MEANS?
SPF stands for sun protection factor and the 50 in SPF50 refers to the amount of protection the sunscreen offers compared to unprotected skin. SPF 50+ sunscreens are formulated to allow less damaging rays to reach your skin's surface than lower SPF sunscreens.
So basically, SPF means how long you can stay in the sun without experiencing sun overexposure on your skin. By multiplying the SPF number with your self-protection time (the number of minutes you can be out before burning) you can work out how long it is safe for you to be in the sun and figure out the right SPF. e.g. if you can stay for 10 minutes in the sun without getting sunburned, a product with SPF 10 would multiply this "self-protection time" by 10 = 100 minutes)*
*information sourced from the nivea.co.uk website
SPF measures UVB protection.
WHAT PA SUNSCREEN RATING IS?
The first thing you need to know is that PA is short for Protection Grade of UVA.
The PA rating system was originally established in Japan as a method of informing consumers of the level of protection provided by sunscreen. The pluses indicate the hierarchy of protection available. The more pluses, the higher the protection," says Melissa Lekus, an esthetician based in Los Angeles.
The rating system is as follows:
PA+ = Some UVA protection
PA++ = Moderate UVA protection
PA+++ = High UVA protection
PA++++ = Extremely High UVA protection
PPD – PERSISTENT PIGMENT DARKENING
These ratings correlate directly with something called "Persistent Pigment Darkening" (PPD), which refers to how long it takes for the skin to tan. If your product has a PPD of 2, then it takes twice as long for your skin to tan when protected versus how long it would take while unprotected. If your product has a PPD of 5, then it takes five times as long.
The correlations are as follows:
PA+ = PPD between 2 and 4
PA++ = PPD between 4 and 8
PA+++ = PPD between 8 and 16
PA++++ = PPD of 16 or higher
HEV – WELL KNOWN AS BLUE LIGHT
Yes, blue light—also called HEV (High Energy Visible) light—emitted from electronic devices like our smartphones, tablets, and TVs may be leading to premature skin ageing and skin damage.
That is why these days on more and more protective products we can see the blue light/ HEV protection
IR LIGHT – INFRARED LIGHT
IR light makes 55% of the light that hits your skin daily and visible light.
IRA rays penetrate the skin more deeply than either UVA or UVB rays, passing through the epidermis and dermis into the subcutaneous layer. These rays are responsible for the warmth you feel on your skin when you're out in the sun, but they also generate free radicals that cause collagen breakdown and accelerate skin ageing. The heat produced by infrared rays can also lead to inflammation in the skin, which over time plays a role in premature signs of ageing.
This is why when choosing your SPF products you should look for broad-spectrum products which will consist of antioxidants and replenishing ingredients.
WHICH SPF PRODUCTS TO CHOOSE?
I will list a few examples of products I like to use daily.
When it comes to choosing my products, the formula is really important for me, I want this SPF to properly protect my skin but it can't leave a thick, greasy film on the skin, it can't sting my sensitive eyes, and it has to be suitable to use underneath my makeup.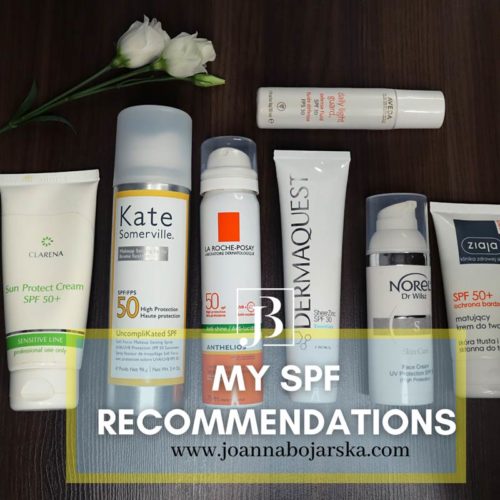 MY RECOMMENDATIONS:
Norel Dr Wilsz – Face Cream UV protection SPF 50 – available to purchase at my beauty studio
DermaQuest Sheer Zinc SPF 30 Tinted version – available to purchase at my beauty studio
La Roche-Posay Anthelios Ultra-Light Invisible Fluid SPF50+ Sun Cream 50ml
And for top-ups during the day I use:
Kate Somerville UncompliKated SPF 50 – Soft Focus Makeup Setting Spray
La Roche-Posay Anthelios SPF 50 Anti-shine Invisible Fresh Mist
HOW AND WHEN TO APPLY YOUR SUN PROTECTION?
As I said at the beginning, Sun Protection is a necessity all year long, but we can't just lightly smudge the product on our face and then expect it to protect us all day. "Two fingers method" became very popular recently, when it comes to the right amount of the SPF for our face and since SPF are so popular, most brands have their articles or little videos where you can see exactly, how to apply the certain filter. But the main rule is – it has to be quite a decent layer.
And this layer has to be topped up through the day – ideally every two hours.
And for top-ups, I use the earlier mentioned SPF's in a spray.
I would also always recommend wearing sunglasses and a hat with a wide brim, whenever you are out and about and the sun is out.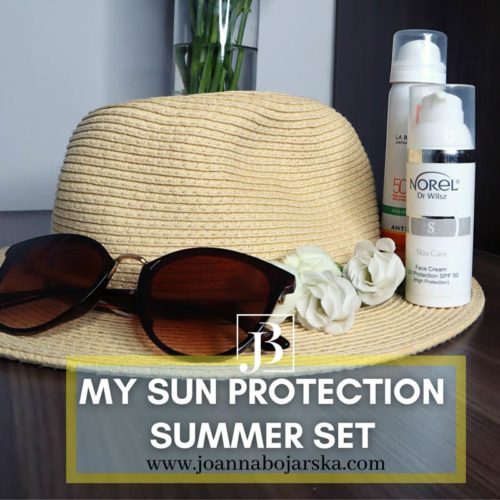 Ok so to summarise, get yourself a good SPF product, most likely broad spectrum, SPF30 at least but preferably SPF50, top it up during the day, choose shade rather than the full sun whenever you can and wear sunglasses and a hat.
I know it might be a lot to take in with all this PPD's HEV's and SPF's but believe me, it's not as complicated as it looks. I just wanted to show you what you should look for when choosing your next SPF product and to explain the terminology.
Hopefully, this article will help you understand the world of SPF's and will make you more confident when purchasing your next one.
Certainly, if you have any further questions when it comes to SPF products or any other skincare products, please do not hesitate to contact me!
I wish you all a beautiful and safe summer!