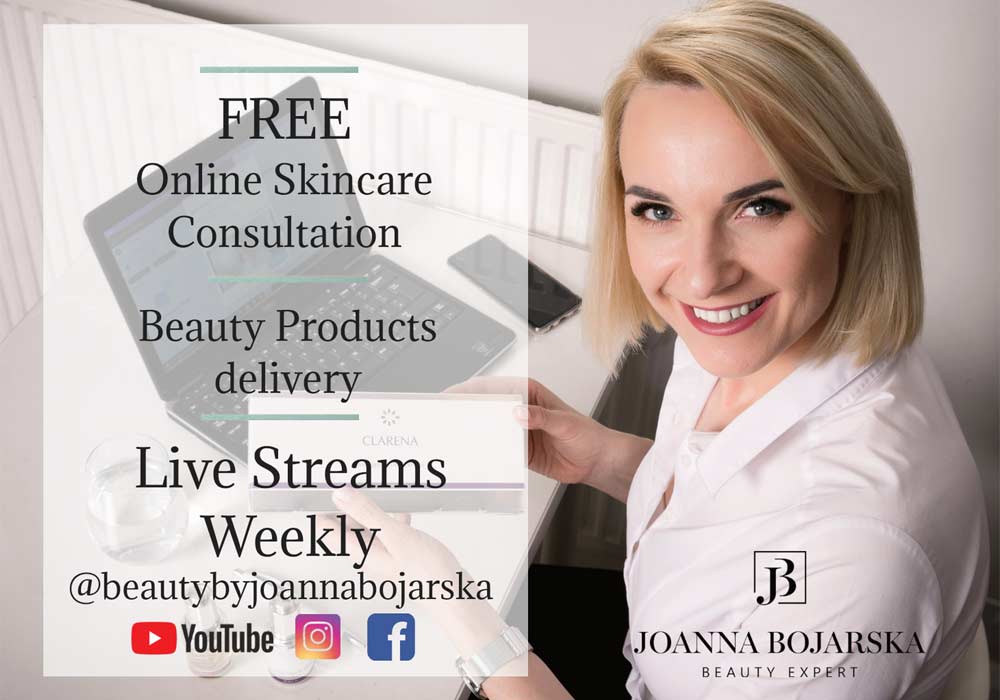 I am a professional beauty therapist and non-invasive aesthetic practitioner with an advanced knowledge of the beauty industry.
Dear Customer,
It is with a heavy heart that I have to announce that from 23.03.2020, due to COVID-19 government guidelines, I will only be available online and by phone until further notice.
I have to make sure that I have done everything in my power to protect you and my family.
But I am still here for you.
You can book FREE ONLINE SKINCARE CONSULTATION and place your cosmetic orders and they will be delivered to you free of charge.
I will be doing live casts for my clients but also for the professionals.
Every week I will be doing a livestream on YouTube, Instagram and Facebook for my customers, beauty lovers and anyone who would like to learn and hear more about beauty. I will be sharing with you my beauty tips and ways to keep your skin and body looking radiant and healthy in these very challenging times. And now, as we are all spending more time at our homes, we should find some time to take care about our skin and body. So stay tuned as I will be announcing the dates and times on my social media and please contact me, if you would like to be notified about these events through the text message as well.
Now, for all the professionals following me I will be also doing some live streams where you will be able to hear and see how you can use your marketing skills to take care of your customer community, learn more about the professional equipment and tools which we are all using to make the most of them when we are back to work.
So I am planning keeping myself very busy during this "stay at home" time and I will be sharing it all with you.
Please follow me on my social media platforms YouTube, Instagram, Facebook, LinkedIn or Twitter to be notified about it all. You can also contact me on 077 15 27 2007 and request a text message to be notified about all my live streams.
And don't forget about the FREE SKINCARE CONSULTATION and FREE DELIVERY options if you wish to talk about your skin or order some beauty products.
Stay safe and healthy
Joanna
Let us all stay safe and stay at home.
Joanna Bojarska.