Natural products on the current beauty market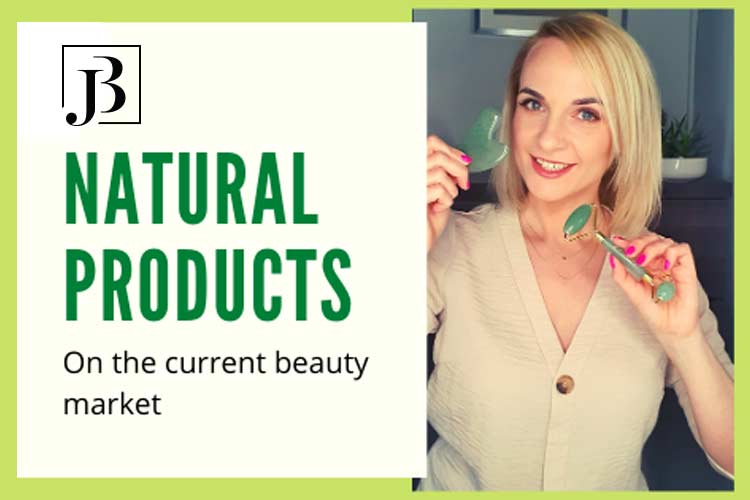 I am a professional beauty therapist and non-invasive aesthetic practitioner with an advanced knowledge of the beauty industry.
I would like this blog post to be a summary to the recent livestreams on my social media, where I was talking about natural beauty trends at home as well as in the professional beauty studios.
If you don't know me just yet, I would like to tell you that I am very passionate when it comes to nature derived beauty products but I am also drawn to the more scientific and lab-based branches of the beauty industry.
NATURE OR SCIENCE?
I personally believe that nature as well as science have their places in the beauty world, and I like to source from them equally.
If you ever watch my YouTube videos or you follow me on any of my social media platforms, you will be able to see that I like to combine these two worlds together in order to create the most amazing face treatments for my clients.
But tonight let me focus on the natural beauty.
Natural beauty therapy is with us since records began, ancient Egypt – Nefertiti, Cleopatra – baths in milk and rose petals, ancient Rome, Greece – hot baths and oils, then we have the Japanese ladies, Korean beauty, Hindu culture, the examples are endless.
People were always sourcing beauty products from nature, but then laboratories and chemical processes came along and we discovered the synthetic products such as hyaluronic acid or retinol
These two worlds have their big lovers and haters.
As I mentioned at the beginning, I am personally in the middle as I think both have good and bad parts.
I think it's great that both of these worlds exist and we can make a conscious decision on what we want to use on a daily basis.
Nature is a very powerful source, but some still believe that if you use natural products they will be gentle, maybe not so efficient.
In my opinion that it not the best way of thinking, because natural ingredients can actually be very potent, for example lavender oil or peppermint oil.
So let's don't underestimate the power of nature!
MY NATURAL BEAUTY STORY
I was lucky enough to be introduced to the world of aromatherapy and nature derived beauty products in my first salon where I was doing my practice.
It was a very busy beauty and massage place, in the heart of Cracow, full of tourists as well as regular clients and it was called "Retro", I don't believe it exists anymore, at least not at the same address.
But it was an amazing place with a very unique relaxed atmosphere and its was run by a couple of great people Kate and Leszek.
They were great specialists so I've learned a lot from them.
Kate introduced me to the nature based products and I was instantly hooked, I was fascinated with mixing different potions in order to create very personalised final products that were targeting very specific needs.
And at that time, we are talking about 2005/2006, natural, eco, green products weren't as popular as they are today, so yes I was always drawn to the world of organic beauty.
Then I came to England and I discovered Aveda, one of my friends used to work at the Aveda Hair Salon and she told me about the Aveda beauty products.
AVEDA AND ME
At the beginning I was a little bit sceptical but I've done my research and I have started using the products at home to begin with and then I started to work at the Aveda salon.
I fell in love with the Aveda beauty products, their whole mission and the philosophy behind their products.
So Aveda is a nature powered brand, you can definitely call them the clean brand.
They are obviously a cruelty free brand, they are working on naturally derived ingredients – average 96% naturally sourced ingredients in the products, they are a wind powered manufacturer, they are a pioneer in post-Consumer Recycled Packaging, they also have their own Pure- fume ™ Aromas.
This is a holistic lifestyle brand. The founder of the brand was Horst Rachelbacher, and now the company is owned by Estee Lauder.
What stands out when it comes to this brand is definitely the facts that the whole brand is based on the elements of Ayurverdic medicine and what comes with it as well elemental nature: Infinity, Air, Fire Water and Earth.
Before you even start working with the Aveda products you should have some knowledge about aromatherapy, essential oils, herbs and massage.
And Ayurveda means live knowledge, so it promotes a holistic approach to your body mind and spirit
When I have started my education with Aveda I wasn't only learning about the products and treatment procedures.
To begin with you learn about the philosophy of the brand, about meditation, yoga and nutrition about our elemental nature doshas, chakras, prana. All Aveda treatments are highly personalised that's why you have to get that basic knowledge first before you are able to customise the treatment for your client.
MY AVEDA SPA TREATMENTS
I would describe Aveda face or body treatments as a very unique form of spa for all your senses.
So very often my clients are very surprised when I describe the treatment and what benefits they will get. Normally people/customers think that it will smell nice, it will be a nice massage and my skin will be moisturised but these treatments are so much more.
Usually my customers, are asleep within 15 minutes from the start of the treatment and even the short 45 min treatment makes them feel like it was a 2h relaxation session.
During the treatments I do not use only the power of the products, I also use my knowledge, different techniques and tools to make each treatment very special. So depending on their needs I will use different massage techniques, different massage tools, chakra stones, hot stones, gua sha tool, jade rollers, stretching movements, hot towels, glass bowls, hot wax.
I am also using acupressure, elements of reflexology, aromatherapy or dry brushing.
I love nature based treatments as I can create a very unique experience for my clients, therefore 90% of them rebook their sessions straight away.
And what I like about the natural beauty as well is that it gives you freedom and you can always surprise your clients by offering a different massage technique or massage tool or maybe a different aromatherapy oil.
And now beauty salons clients are more aware of their options and they are drown to natural beauty as it a healthy and environment friendly choice.
MY NATURAL BEAUTY PRODUCTS AT HOME
I personally combine nature derived and scientific/ cosmeceutical products in my daily skincare routine.
I do appreciate a good, classic yoghurt & honey mask but I also couldn't live without my beloved retinol.
So I personally like to mix them.
But if you are a nature lover, you can easily create a whole day and night time skincare routine based only on natural products.
Let me give you an example of the daily skincare.
Morning Natural Skincare
Wash your face with Aveda Botanical Kinetics Purifying Gel Cleanser
Tone your face – Watermelon Toner – Anna Adamczak from Anna H&B was showing us how to make this toner at home, on my "Nature in Home Skincare " livestream
Moisturise your face – Botanical Kinetics Intense Hydrating Soft Crème
SPF – Aveda Daily Light Guard spf30
Evening Natural Skincare
Wash your face with Aveda Botanical Kinetics Purifying Gel Cleanser – if you wear make-up wash your skin twice – DOUBLE CLEANSE
Dry Brush your face – aveda dry brush
Massage your skin with Aveda Radiant Oleation Oil (one of my favourite products) – face automassage tutorial available to watch on my YouTube channel
Tone your face – Aveda Toning Mist
Serum – Aveda Tulasara Brightening Concentrate
Overnight Facial in cream & eye cream– Aveda Tulasara Wedding Mask and Wedding Mask eye
Once a week Mini Facial at Home:
Natural face scrub – mildly grounded coffee beans mixed with sweet almond oil
Face mask – Banana mixed with Avocado and few drops of lemon – Anna Adamczak from Ann H&B was showing how to prepare this mask on my livestream "Nature Beauty in Home Skincare"
As you can see, skincare either natural or synthetic doesn't have to be complicated but if it still seems a bit confusing to you, then remember that I am here to help you, and you can book yourself a consultation with me where I can do your skin analysis and we can create your personalised skincare routine, that can be budget friendly and as simple or as complicated as you like.
At the end of the day skincare should be the moment that you are always waiting for and it gives you pleasure, positive vibrations and it's also very relaxing.