How to create and organise your daily skincare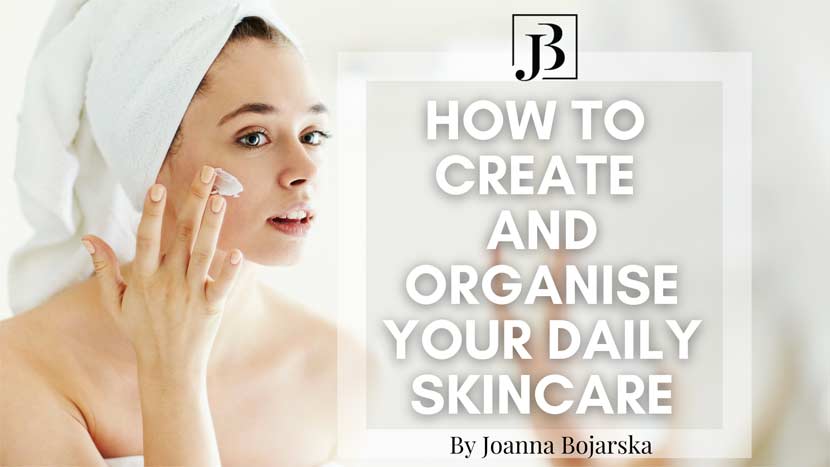 I am a professional beauty therapist and non-invasive aesthetic practitioner with an advanced knowledge of the beauty industry.
Hello, 2021…right so where shall I start?
New year, usually means planning, making resolutions and setting up goals.
And there is nothing wrong with that, as long as we are making reasonable decisions, not unrealistic goals. Like, for example, in my case, "I will be waking up at 5 am each morning." I am laughing writing it down now, as I know how much I love my sleep and I cherish every second in bed, but I want to work on that, so instead of torturing myself with this resolution, I rather tell myself – I will try to wake up early every morning, it can even be 10 minutes earlier than usual, but that is fine, as long as I will be making some progress.
RESOLUTIONS ARE GREAT JUST MAKE SURE THEY ARE REALISTIC AND YOU CAN COMMIT TO THEM
And talking about commitments, recently I received lots of questions about organising the skincare vanity and I understand why.
These days we are just overwhelmed by the number of different skincare products and the number of steps in our daily beauty routine…. And when watching all the YouTube videos or Instagram accounts, presenting us with their 14 step skincare journeys, sometimes I wonder if that is even realistic? Unless you are a beauty freak like me….but this is part of my job, so at least I have an excuse!
SIMPLIFY YOUR SKINCARE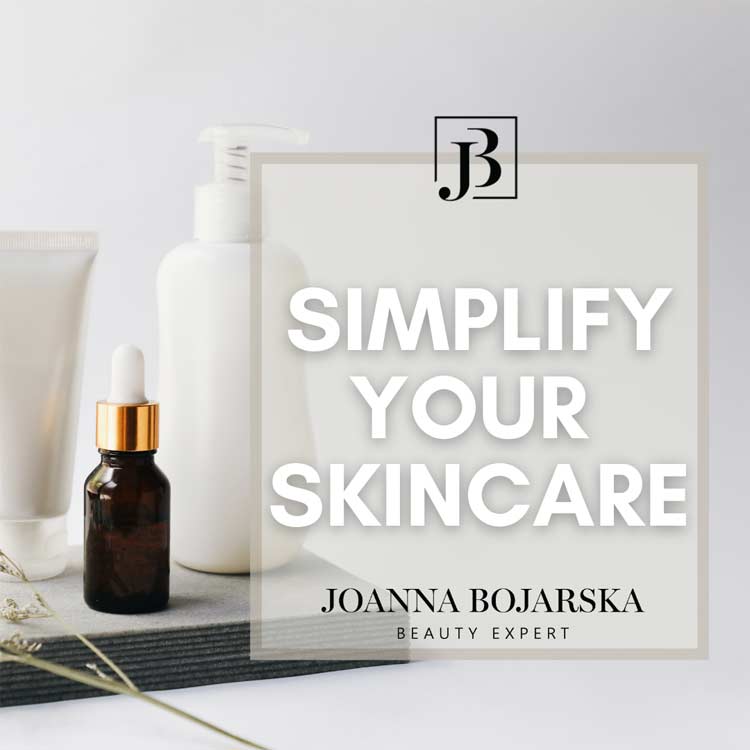 So this year I will start with taking a step back and instead of presenting to you new beauty products, I will tell you about, how you can simplify your skincare routine, using whatever you already have (unless it's something very harsh or damaging to your skin) and still get the ultimate results that you sought.
Right, so the first thing we have to establish here is, you should have a MORNING and EVENING skincare routine.
Your skin might need some slightly different ingredients in the morning than in the evening.
BASIC MORNING SKINCARE ROUTINE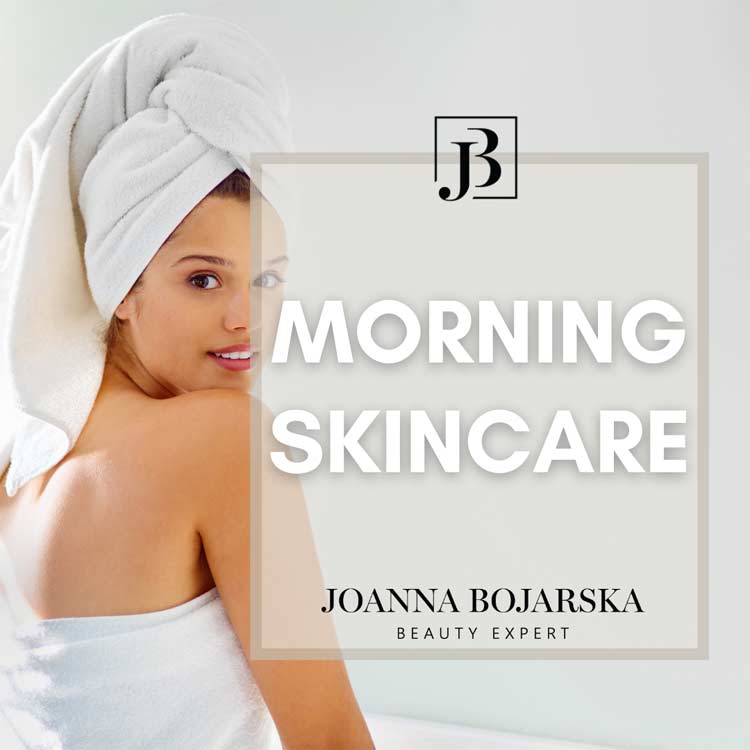 Cleansing – use a gentle cleansing product or simply splash your face with lukewarm water- do not use too cold or too hot water to wash your face.
Toning – wipe or spritz your skin with a hydrating, soothing or balancing toner – avoid toners with alcohol and too much fragrance
Moisturising– every skin needs hydration, including the oily one – use a simple moisturising cream with the consistency that suits you the most
SPF – sun protection factor – should be used every day all year long. I know I told you about it so many times, already, that it is just boring to talk about it again. And there is no excuse for not using it these days. I know in the past SPF was synonym with this very thick, sticky paste that was leaving a white cast on your face, but this is a thing of the past. These days we have beautiful lightweight formulas of the SPF products, we have sprays, powder SPF, SPF in the brush, so yes loads of choice here.
BASIC EVENING SKINCARE ROUTINE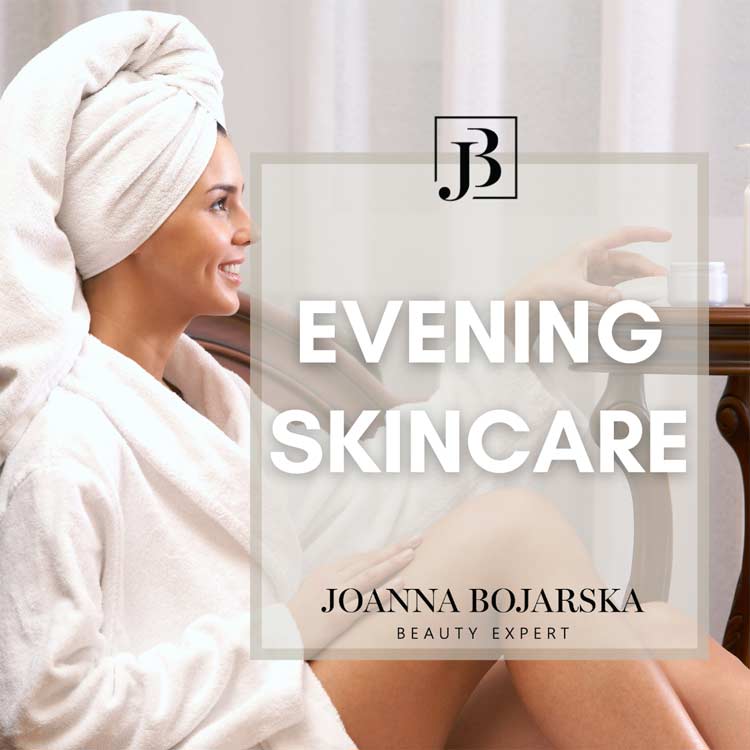 Cleansing – Double Cleanse if your wear make up or a thick consistency SPF. In the evening we should make sure, we cleanse our skin thoroughly from all the debris, makeup or sebum. I am a big fan of double cleanse, meaning I will first cleanse my skin with a makeup removing product – cleansing balm or oil and then I will use an actual cleansing product – in my case cleansing gel. That way I am making sure my skin surface and my pores are clean and ready for the next steps of my routine.
Toning – Unless I am using an exfoliating toner (twice a week) I would usually use the same toner in the morning and the evening. So you can have only one toner at the time and that will be enough for a good skincare routine.
Serums – Evening is the time when it will be good to feed your skin with some active ingredients.
Depending on your skin type they can vary from exfoliating ones Aha's and Bha's, resurfacing – Retinol, Brightening – Vitamin C, hydrating Hyaluronic Acid, soothing – Niacinamide or anti-ageing Peptides.
I would always recommend to use, a good quality serum, at least once a day in your skincare.
Moisturising – Similar to the toner, you can use the same moisturiser in the morning and the evening ( unless it has SPF in it), or you can choose oil or the specially formulated overnight facial creams.
This will be a little step by step description of how your skincare can look like. You can add as many steps as you like to it, like essences, eye creams, beauty gadgets, facial massage or serum layering, the options are endless.
So depending on where you are with your skincare, you can either simplify it or upgrade it, just remember that is all supposed to be pleasant and fun.
SKINCARE IS YOUR SELF-CARE MOMENT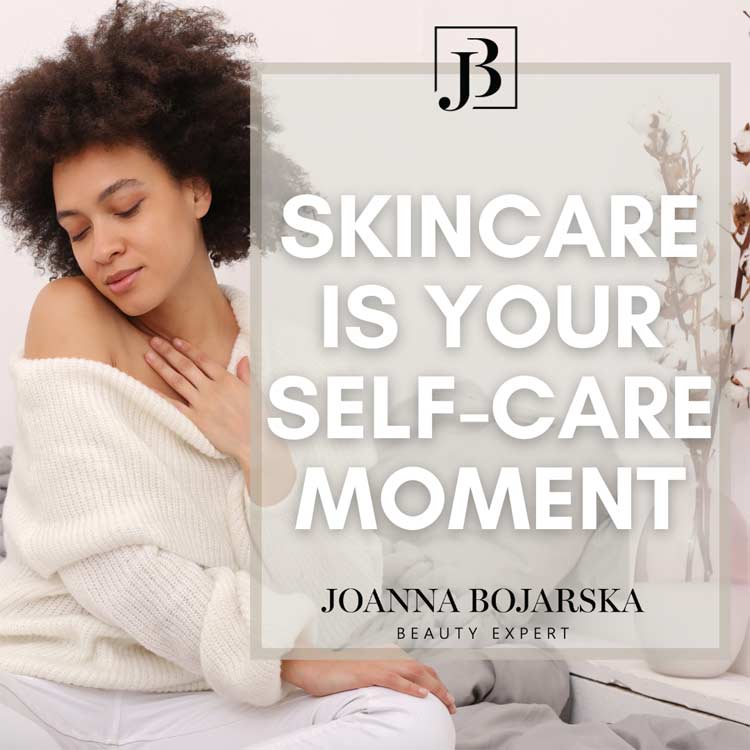 And now, you will probably ask me for some product recommendations for each of those steps but I haven't included any on purpose, first of all, I have prepared for you a separate video on my YouTube channel, where I talk about this subject where I'm giving you more in-depth information, including some examples and secondly I haven't given any recommendations here because I think everyone's skin is different and for me, to recommend to you the perfect products I would have to talk to you directly.
So if you would like me to help you create your PERSONALISED SKINCARE ROUTINE then please contact me directly.
I truly hope this year will be kind to us and I will be able to reopen my beauty studio very soon, meanwhile, I am here for you -Online – so if you need any beauty advice, beauty products or mini facial at home, please do not hesitate to reach out to me.
I wish you all the best in the New Year!
Joanna