CREATE THE BEST CHRISTMAS SPA EXPERIENCE AT HOME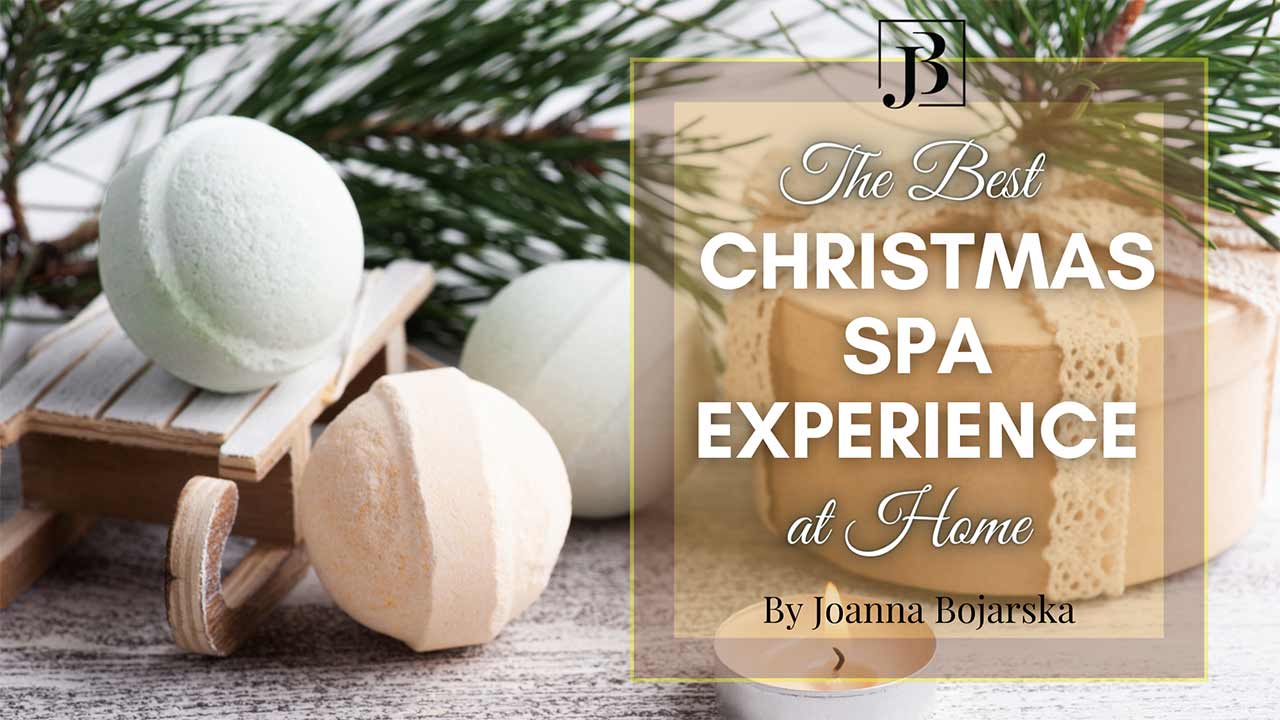 I am a professional beauty therapist and non-invasive aesthetic practitioner with an advanced knowledge of the beauty industry.
The festive season is that magical time of the year when everything becomes a joyful experience. However sometimes, the time leading up to X-mas can be a little bit hectic and stressful, with all the shopping rush, cooking, closing yearly projects and budgets at work…it can be simply overwhelming.
Therefore it is very important to find some time for yourself during Christmas, especially this year when the holiday break will be a bit longer than usual.
Self-care can certainly mean various things; at-home spa, a long walk, a good book, a series, board games with the family and friends or a simple nap during the day, whatever makes you happy and taken care of…just do it, NOW IT'S THE PERFECT TIME FOR IT!
And I wouldn't be myself, if I wouldn't plan, for you an AT-HOME SPA EXPERIENCE, just to give you some ideas on how you can take care of your skin and body over the festive season.
FITNESS ACTIVITY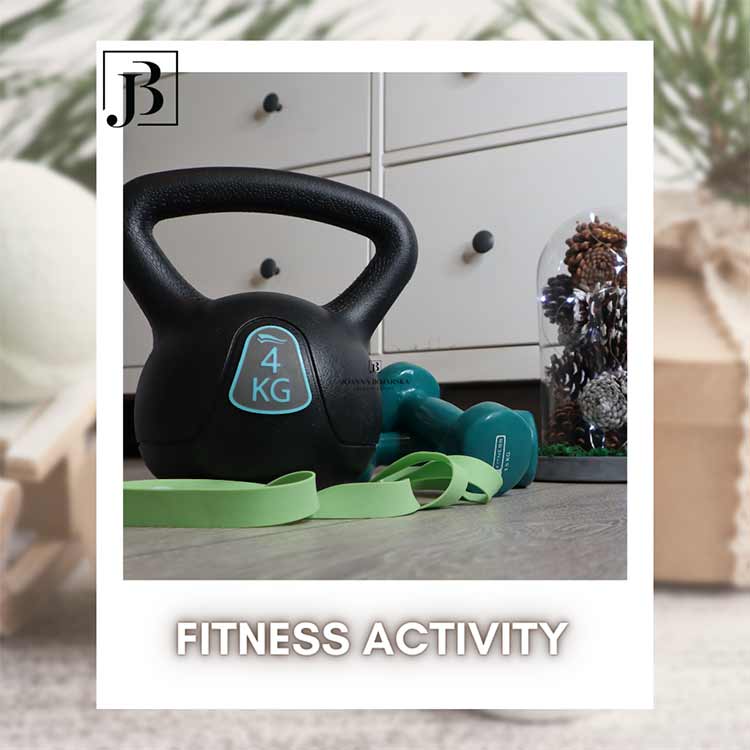 So first of all, my AT HOME SPA starts with a bit of fitness activity, but nothing crazy just a simple yoga online class or stretching, just to boost the blood flow and get the muscles working.
BATH
Second, on my list will be a bath, but not just any kind of bath, I will go full spa mode here.
So in my perfect version of a SPA BATH, I will be adding salts and oils to my water, it can also be bath bubbles, depending on what you prefer.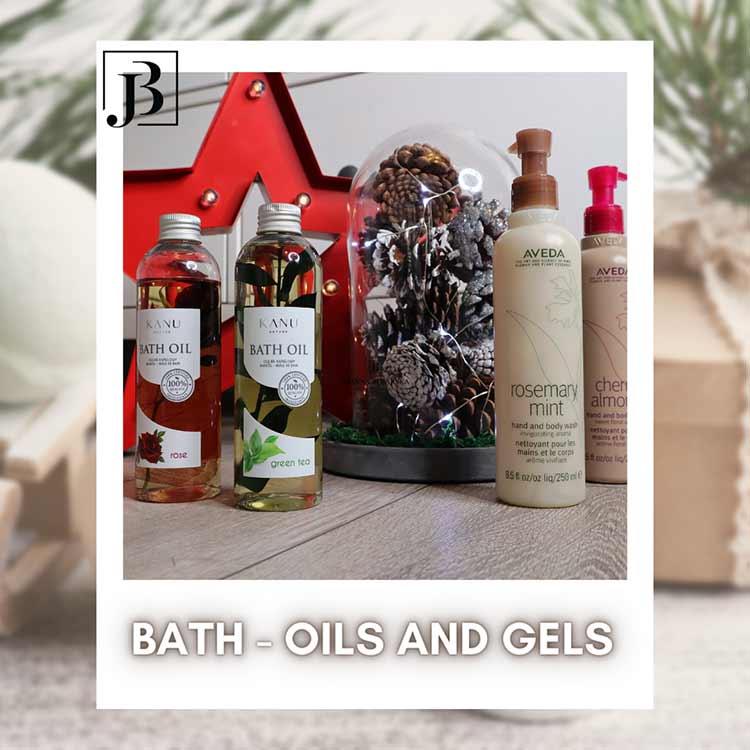 Bath Gels & Oils
My personal favourites bath oils and gels;
Kanu Nature Bath Oils
Aveda Hand&Body Wash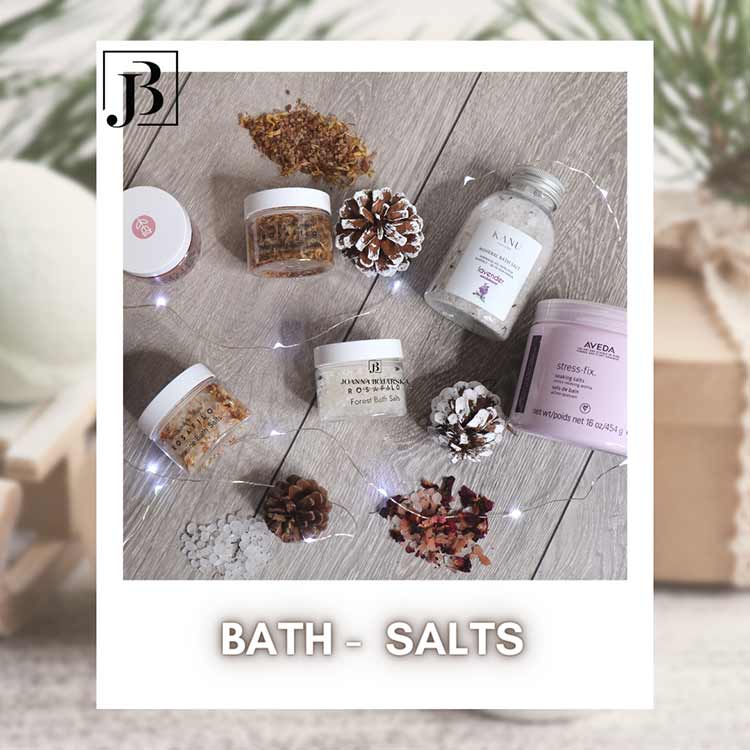 Bath Salts
– Kanu Nature Mineral Bath Salt – especially Lavender
– Rosafilo Bath Salts – various choices – my favourite Forest Bath Salts & Warming Bath Salts
– Aveda Stress-Fix Soaking Bath Salts – great together with the body lotion
Body Scrubs
During my bath, I also like to do a BODY SCRUB.
If you follow my social media, you will know that I recommend doing body scrubs once a week. Not only, this is super relaxing but it also has amazing benefits to the body like smooth and even texture, reducing cellulite, preventing ingrown hair.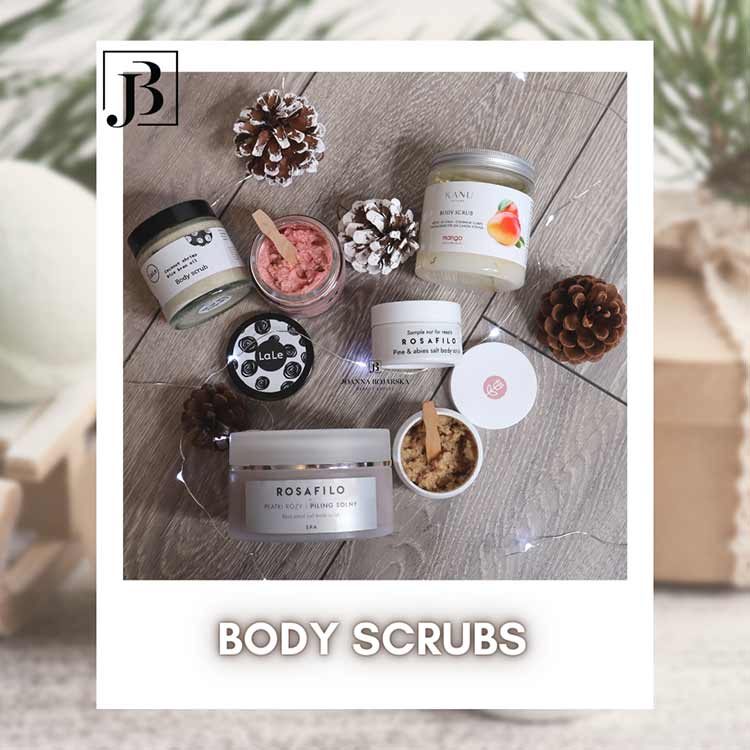 Scrubs I love:
When I need a deep exfoliation
Homemade scrubs – watch the video
Kanu Nature – body scrub Mango
Rosafilo – salt body scrubs – various scents – my favourite Rose and Pine&Abies
Hagi Cosmetics – Natural Citrus Scrub with Hemp and Macadamia Oils
When I need a bit more gentle exfoliation
Lale Rose Body Scrub
Lale Coconut Shrims Rice Bran Oil Body Scrub
Rosafilo Sugar Scrubs – various scents – my favourite Lime and Raspberry
Usually, after my bath with oils and scrubs, there is no need for an extra body butter or body lotion, however, if you don't like the oils, I have a few alternatives for you in the form of body lotions and body butter, my personal choices: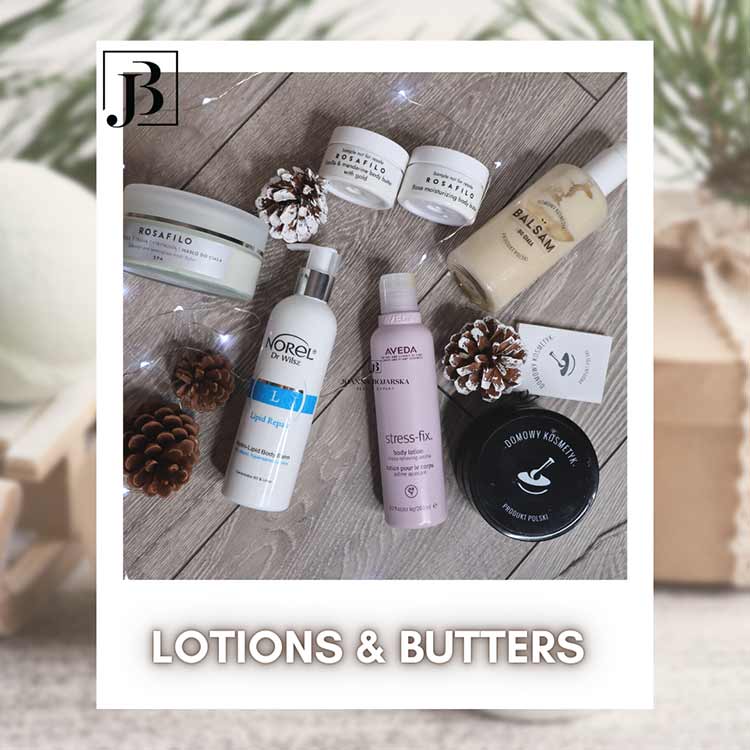 Rosafilo Body butter – various scents to choose from but my favourites will be Coconut&Lemongrass and Cocoa and Almond
Domowy Kosmetyk – Green Tea Body butter or Body Lotion
Aveda Body Lotions – various scents – my favourite Stress-Fix and Cherry-Almond
Norel Dr Wilsz – Lipid Repair Body Lotion – for people with extremely sensitive and dry skin.
HAIRCARE
While I have my bath I also like to use some HAIR MASK, which very often I combine with HAIR OILING, and there is also a video on my Instagram (@beautybyjoannabojarska), where I show how I do this exact process step by step.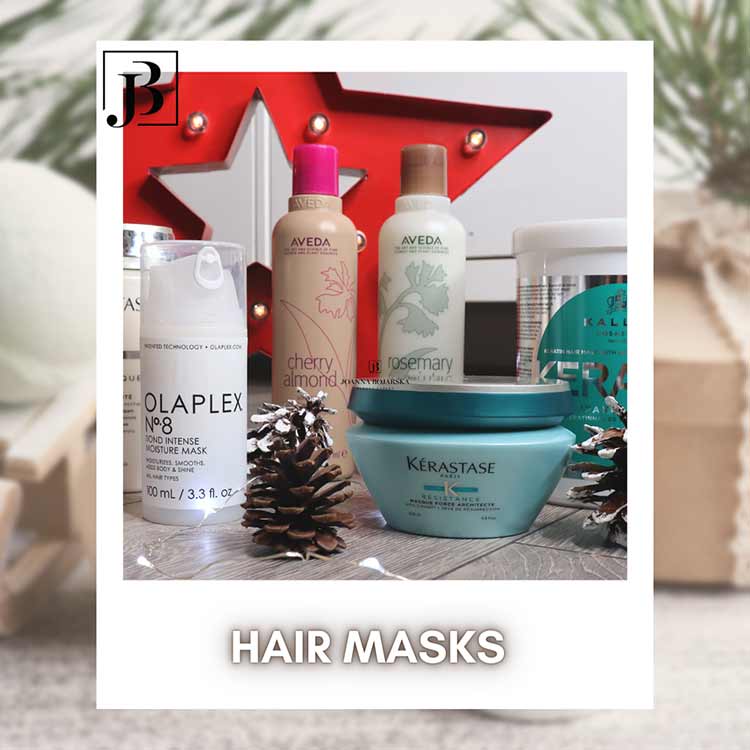 When it comes to my favourite Hair Masks, I would choose;
Kerastase Masks
Aveda Masks
Kallos Masks
Garnier Hair Food
MINI FACIAL
Once my body is beautifully hydrated, smooth and nourished, I can move on to my FACE and my SKINCARE. Here, again I always recommend doing a MINI FACIAL AT HOME and I even have a series of mini videos on my YouTube channel, where I show example facials, which you can very easily recreate at home, for different skin types.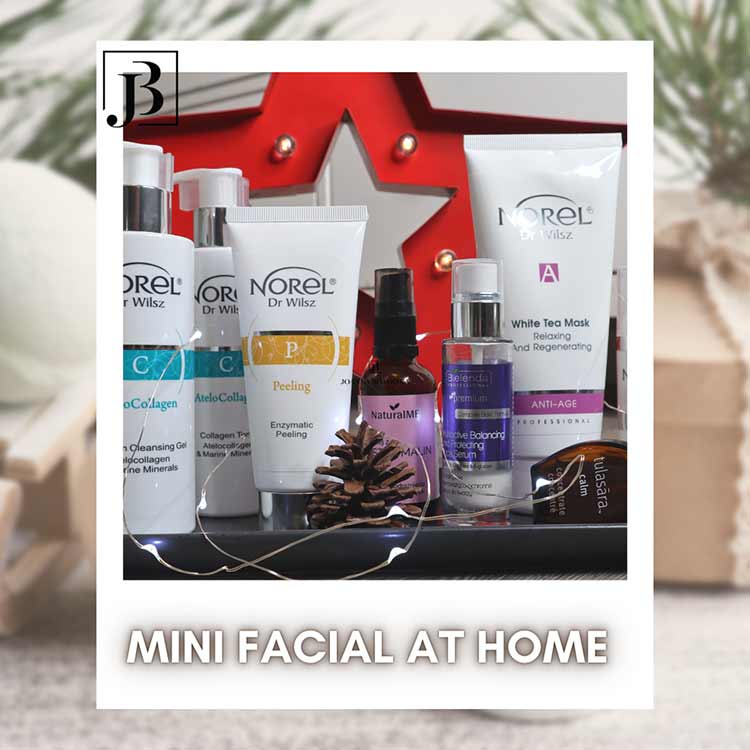 My MINI FACIAL AT HOME would always include
Cleansing – usually double cleanse – gentle gel cleanser
Norel Dr Wilsz AteloCollagen Cleansing Gel
DermaQuest Essential Daily Cleanser
La Roche-Posay Effaclair Gentle Cleansing Gel
Gentle Exfoliation – enzyme peel
Norel Dr Wilsz Enzyme Peeling
DermaQuest Mini Pumpkin Mask
Bielenda SupremeLab Enzymatic Face Peeling
Toning – balancing and hydrating toner
Norel Dr Wilsz Hyaluron Plus hydrating toner
Norel Dr Wilsz AteloCollagen Toner
NaturalMe Hydrolat with Rose or Neroli
Serum + Oil – auto massage
Choose your favourite serum, add a couple of drops of facial oil and massage your skin for a minimum of 5 minutes, the longer the better.My favourite serums:
Norel Dr Wilsz Hyaluron Plus – Moisturising Serum
Norel Dr Wilsz Face Rejuve Skin Tightening Cranberry Serum
DermaQuest B3Youth Serum
DermaQuest Stem Cells Rebuilding Complex

My favourite face oils:
Aveda Oleation Oil
Sarah Chapman Overnight Facial
NaturalMe Raspberry Seed Oil
Organic Sweet Almond Oil or Jojoba Oil

For the massage, you can just use your hands or you can add some jade rollers, gua-sha tools, Chinese cups or cooling glass balls.

Mask – depending on your preferences you can choose a sheet mask, algae mask, cream mask, peel-off mask or any other which works for you.I recommend owning two types of masks, one more hydrating and nourishing and one deep cleansing, detoxifying, purifying, and alternating them, depending on what your skin needs more on that day. After the mask, I would usually use the toner again.My Top Hydrating Masks:
Aveda Deeply Hydrating Mask
Norel Dr Wilsz Hyaluron Plus Intensive Moisturising Mask
Neogence Sheet Masks

My Top Nourishing Masks:
Bielenda Professional Algae Masks – various choices
Norel Dr Wilsz Vitamin Mask
Norel Dr Wisz White Tea Mask

My Top Deeply Purifying Mask:
Norel Dr Wilsz – Antibacterial Gel Mask
Aveda Deeply Cleansing Clay Mask

Skincare – apply your usual skincare, meaning; serum, eye cream, moisturiser and SPF.Try this MINI FACIAL at least once, especially during the festive season and trust me, you will feel very relaxed, taken care of and refreshed.And as usual, if you are in doubt, which products will work best in your case, I am here for you, so please, do not hesitate to contact me if you need any advice in choosing your products.
I wish you all a beautiful and peaceful Christmas, full of joyful moments with your family and friends.
Thank you for supporting my beauty blog and my small business, it means a lot to me.
I will be back with new content and articles in 2022.