Beauty by Joanna Bojarska is reopening – Safety First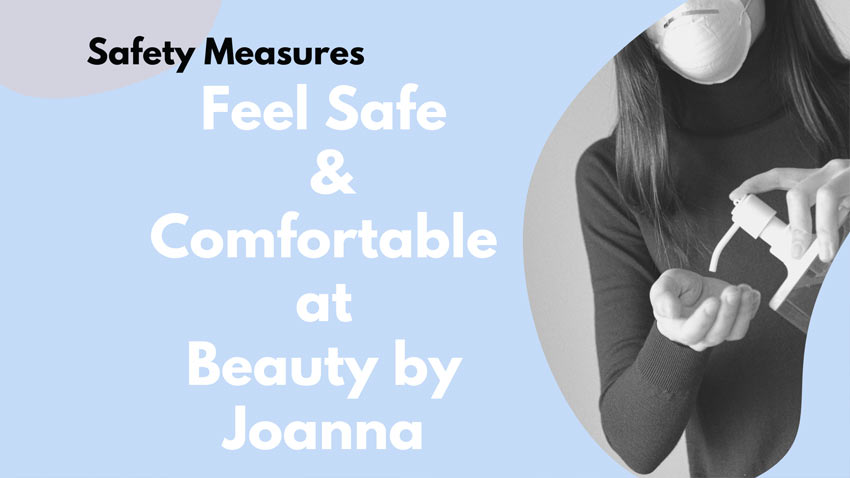 I am a professional beauty therapist and non-invasive aesthetic practitioner with an advanced knowledge of the beauty industry.
Great news, after 4 months break I am finally allowed to reopen my beauty studio.
Beauty by Joanna Bojarska is opening on the 20th July 2020
Following the Covid-19 Pandemic, I have put extra measures in place for everyone's safety.
I have introduced a few new safety points for your appointments:
Please arrive on time for your appointment.
Please arrive alone – only customers are allowed in the treatment room
Beauty by Joanna has a 24h cancellation policy, however, if you have any symptoms of illness or you have been in contact with COVID-19 please contact Joanna Bojarska at any point before your appointment.
Wear a face-covering/ mask on your arrival, remove it only if it's necessary.
Sanitize your hands on arrival ( sanitizing liquid will b supplied).
Please minimize personal belongings.
Fill in a COVID– 19 Disclaimer & Consent Form for Beauty Salons – both documents will be handed to you on your arrival.
Please be aware that your appointment at Beauty by Joanna may take around 10 minutes longer than usual as you will be asked to fill in a fresh medical survey, Covid-19 disclaimer and a consent form.
Please be aware that due to the Governments Guidance Joanna Bojarska is not able to see as many clients as before, in one day, therefore the waiting time for your appointment might be longer than usual. Joanna Bojarska would highly recommend booking your appointment in advance to secure your preferred slot.
Refreshments – please bring your own refreshments if possible. Joanna Bojarska will be able to serve only still mineral water in the disposable biodegradable cups but only if needed.
Joanna Bojarka has received a Barbicide Certification of proper sanitation and disinfection practices and procedures consistent with the current highest industry standards 28.04.2020.
Joanna Bojarska beauty studio is equipped with an Air purifier, sterilization – autoclave, ultrasound cleansing machine, ozonated hot towel cabinet, all necessary disposables as well as medical-grade sterilizing and disinfecting liquids. All customers have the right to ask any questions regarding disinfection, sanitation and hygiene levels at any time.
Your safety is as always my priority and I can assure you I will do everything in power to keep all my customers safe and comfortable whilst visiting my beauty studio.
So it's been a long 4 months and I cannot wait to be able to be back to work and see you all!
I must admit I am a bit nervous, as it will be slightly different then it was before. Although my general practices won't change as much, as workplace safety always was my priority and I am aware of all the risks of my trade. And at the beauty schools we have to pass all the exams on sanitation and disinfection and the levels of hygiene in the beauty studios are really, really high.
I mean most of us are using same sanitizing liquids and equipment as at the doctor's practices.
So I hope you trust me, the same as I trust you, that you won't come for your appointment if you are ill or you have any illness symptoms, we can always reschedule your visit and keep everyone safe.
Having said that I am really happy that I will be able to see you all.
A massive thank you to everyone , who has supported me during this time, with your texts, phone calls, online consultations, your orders. Thank you for joining my livestreams, liking and sharing my posts, watching my YouTube videos, reading my blog I really, really appreciate it all.
I was really trying to stay in touch with you as much as I could during this closure.
And if you need any more information in regards to booking your appointment, purchasing any products or you require any further information on my safety measures please contact me and I will try help you and answer all your questions
I hope you are all safe and healthy and I am looking forward to see you all very soon.