Are beauty products essential?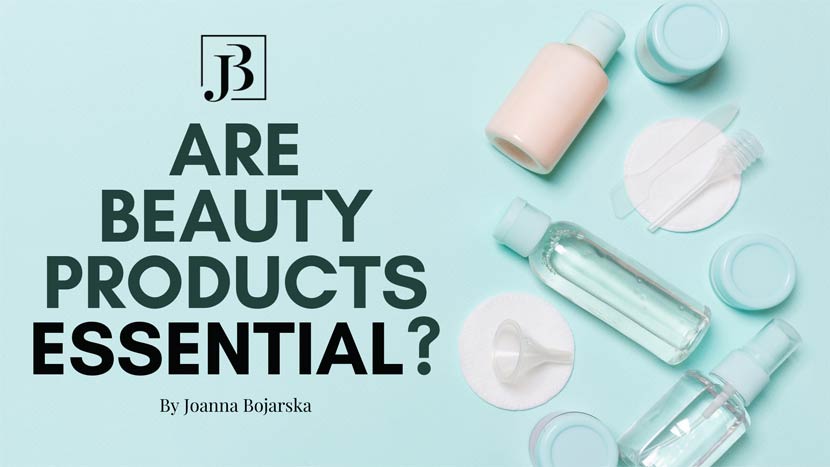 I am a professional beauty therapist and non-invasive aesthetic practitioner with an advanced knowledge of the beauty industry.
Recently we hear a lot about essentials…but what actually is essential?
This word may mean different things to different people.
Would it be just food and hygienic products? Or shall we include here cleaning products as well?
For example, quite recently there was a case, where homeless person couldn't buy a blanket as the aisles in the shop were closed, and this item was an essential for him on this occasion. We all probably hear about similar situations every day.
Now there is a question, I would like to rise here – ARE BEAUTY PRODUCTS ESSESNTIAL?
Well… most of you reading this right now will probably think, is she insane?
We are in the middle of the world pandemic, and you want to talk about beauty products?
But I would like you to think about this for a few seconds.
It's just my guess, but I will presume that most of us are using some kind of shower gel or soap every day, body lotion, shaving cream…these are all beauty products. And then if we would like to go even one step further, at least 80% of you reading this text now is using at least a moisturising cream.
All these mentioned products might not be essentials, but we don't even realise that we use them every single day, which makes them fit in the earlier mentioned category.
Same with the beauty services, not everyone is booking regular visits at the beauty studios, spas or aesthetic clinics, but there are some people who treat their appointments very seriously and for them it is an absolute essential, and I am not even talking now about full on beauty treatments. Things like body waxing, brow shaping or acne reducing procedures can become a very important part of our lives.
And please, do not get me wrong I do fully understand the importance of reducing the spread of the virus, I just wanted to stress the aspect of "The essentials" meaning different things to different people and I think we should all respect our opinions in this matter.
This is why I have recently created a group of products, available to purchase at my beauty studio, which I named YOU DAILY BEAUTY ESSENTIALS
These products are based on things we all use in our skin or body care on a daily basis and I wanted them to be really affordable as well, so we can all enjoy them without breaking our bank account.
HAND SANITISER

The most basic product which we all use these days, everyday – multiple times .
100ml Hand Sanitiser 70% Alcohol £3.00
50ml Hand Sanitiser for sensitive skin £2.00

HAND SOAP
Clarena Caviar Liquid soap 250ml £7.00
HAND CREAMS

– Apteo hand cream with olive oil, shea butter and vitamin E. 100ml £5.00
– Theo Marvee Mani Therapie Hydro Fruit Hand Cream 75ml £8.00
– Aveda Hand Relief moisturising cream 40ml £9.00
– Clarena hand creams, 15% Urea hand cream and Portulacia Hand cream.
100ml £14.00 each

NAIL & CUTICULE OIL – flower essence from Semilac 10ml £8.00
FOOT CREAM – Aveda foot relief moisturising cream 40ml £9.00

FOOT GRATER – £8.00
PROTECTIVE VIT A CREAM – 25ml £4.00
GEL or CREAM FACE CLEANSER – Aveda 40ml £9.00
CLARENA CAVIAR KIT – Micellar Toner & Caviar Cream £10.00

CLARENA OXY SET – Hybrid Oxy Gel & Oxylogic Cream £9.00
SINGLE USE MASKS – variety £5.00 – £7.00
Depileve Intimate Folisan Serum £7.00
All mentioned products are available to purchase at my beauty studio.
And as I mentioned at the beginning, I wanted these products to be affordable, easy to use and practical, as the usual daily essentials should be.
Please share your thoughts about this current situation with the ESSENTIAL group, as I would love to hear your opinion on this subject.
Thank you very much for visiting my beauty blog, make sure you follow me on social media Instagram and Facebook @beautybyjoannabojarska, also check out my YouTube channel, as I try to add new videos there on a regular basis.
Stay healthy and safe.
Joanna