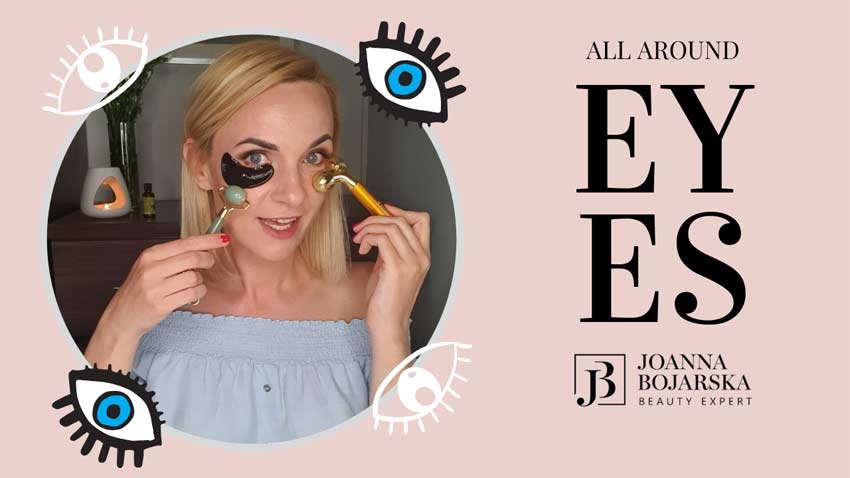 I am a professional beauty therapist and non-invasive aesthetic practitioner with an advanced knowledge of the beauty industry.
Dark circles, puffy under eyes, fine lines, dryness…. Doesn't sound too enjoyable does it?
Yet most of us struggle with at least one of those things when it comes to the eye area.
Luckily we have the beauty world to help us reduce those problems and make them less visible.
I have dedicated my two livestreams (available to watch on my YouTube channel) to our eyes.
In the first one "The power of lashes", together with my special guest Agnes Zawisza (The Lash Room Crewe), we were sharing with you our thoughts and tips on how to take care of your brows & lashes at home and why a good care is so important.
And in my second live stream "All around the eyes" I have decided to continue this topic and tell more about around the eye area care.
As the beginning suggests, most of us have some concerns in regards to our eye area.
Why skin around the eyes is such problematic?
Well the skin underneath our eyes is much thinner in comparison to the rest of our body.
The skin around our eyes in 0,5 mm thick, whereas on the rest of our body is 2-3mm.
Secondly the skin around our eyes shows everything what happens in our body, we had a sleepless night or we are not feeling great, we will have dark circles, we had loads of alcohol, salty food or we cried last night, we will have puffy eyes next day, first fine lines and wrinkles that we start noticing as we age are usually those around the eyes.
So yes eyes, can tell a lot about our lifestyle, diet and stress levels.
Those concerns can be also related to our genes and hormones.
BEAUTY WORLD TO THE RESCUE!
Luckily we have beauty world to help us reduce those problems and make them less visible.
And as usual, we can choose from home remedies, beauty products which we can buy at the shop or professional beauty treatments.
START WITH PREVENTION!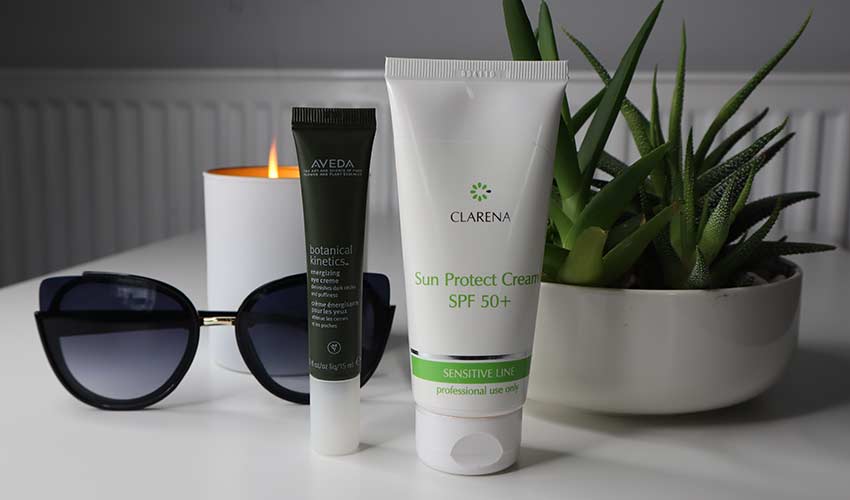 DIET – what you eat it will show underneath your eyes, so if you eat loads of salty foods, drink loads of alcohol, smoking it will most likely show underneath your eyes pretty quickly
SLEEP – sleep is a very important factor when it comes to our body regeneration. So don't be surprised when you have a sleepless night and then next morning your eyes will look puffy and dark underneath.
STRESS LEVELS – I know it's much easier to say then do, but try to manage your stress levels. I am always raving about finding some time for yourself and just relax, it can even be a few minutes a day, but try to find this chillout zone for your inner self every day.
SUN – this is a big one! Although sun is very beneficial for our immune system and vit D production, it is not so kind on our skin – PHOTO-AGEING – you are probably familiar with this term – unfortunately UV rays are speeding up the process of ageing that is why sun protection is so important.
APPLY THE SPF AROUND YOUR EYES & WEAR BIG SUNNIES!
THE BEST HOME REMEDIES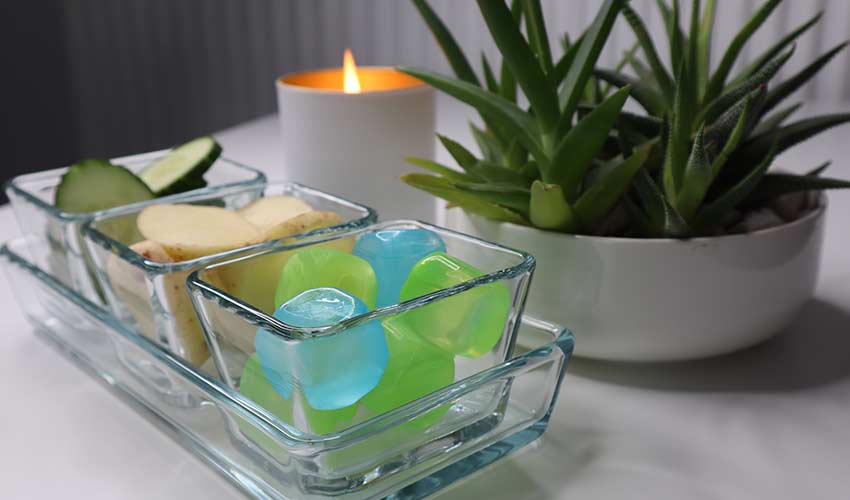 CUCUMBER
Fresh slice of cucumber – Is there anyone there who haven't tried it yet? I think this is the most well known home remedy for the eye area.
Cucumber has an anti-inflammatory effect that helps in reducing puffiness. It is also very soothing and hydrating, bringing relief to puffed and tired eyes.
POTATO
Raw Potato is great when it comes to reducing dark circles underneath our eyes.
Potatoes contain enzymes, vitamin C and starch that nourish the thin skin around the eyes. The coldness of the potato also helps to reduce swelling and minimize dark circles and tired appearance.
TEA
Another statement home remedy we all tried – tea bags compresses.
The tannin in tea bags has been proven to reduce swelling (baggy under eyes) and discoloration (dark circles). Simply brew and enjoy your tea, then save the tea bags, cool them down and place over your eyes for 10 -15 minutes.
ICE
I use the ice to reduce the puffiness not only underneath the eyes but on the whole face for quite a few years now. It works wonders, especially before the make up application.
Cold temperatures reduce swelling, which is part of the cause of a puffy eyed appearance.
Simply wrap up the ice cube in the cotton gauze and massage your eye area. Immediate relief guaranteed!
I have recently discovered reusable ice cubes, they are great as there is no dripping or melting while doing the massage.
And if you want to go even one step further, you can freeze down your tea or little pieces of cucumber in your ice cubes so you get double benefits of detoxifying and tightening.
We can also us avocado, thick tomatoes juice, egg whites and aloe vera gel and more for your eye area, so there is loads of choice when it comes to home remedies.
THE MOST KNOWN BEAUTY PRODUCTS FOR THE EYE AREA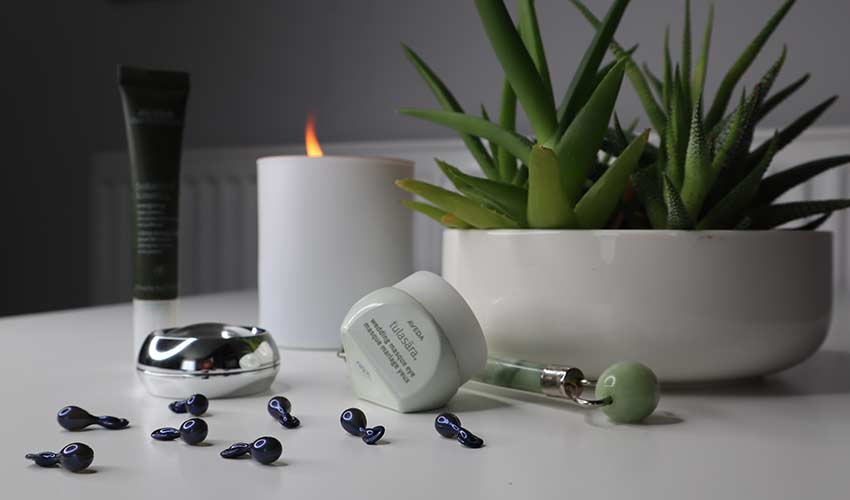 There is be also plenty to choose from when it comes to the beauty products.
And obviously let's start with an EYE CREAM.
I know, I know, some of you will say what is the point of buying an eye cream, as it is just a diluted moisturizer, and here I would say yes and no. Yes, indeed it is a form of moisturiser, but also no, as it has been formulated to be used on this thin, very specific skin around the eyes. And if you don't want to buy a separate eye cream, totally fine, use your moisturiser, at the end of the day it's your face and your skincare, you can do whatever you like, but I would definitely avoid putting any strong serums which you use for the rest of your face, on the eye area.
For instance, if you want to use an cream or serum with a retinol in it, then I would definitely buy two separate products, one for the face and one for the eye area. I personally, use a separate eye cream.
ACTIVE INGREDIENTS IN THE EYE CREAM WHICH REALLY WORKS
When it comes to the eye cream, you choose the one for your skin need.
Puffy under eyes:
Caffeine
Green tea extract
Antioxidant vitamin C
My recommendations:
Aveda energizing eye cream £39.00
Clarena eye line oxy matrix eye cream £25.00
Clarena super lift eye roll-on eye lifting serum £24.00
Dark circles:
– Vitamin C
– Caffeine
– Collagen
– Aloe Vera
My recommendations:
DermaQuest vit C eye cream £55.00
Aveda tulasara wedding masque eye £39.00
Clarena multipeptide eye pearls £25.00
Clarena eye line oxy matrix eye cream £25.00
Fine lines and wrinkles:
– Sweet almond oil
– Jojoba oil
– Stem cells
– Coenzyme Q10
– Peptides
– Collagen
– Retinol
– Vitamins ; C, E
My recommendations:
Aveda tulasara wedding masque eye £39.00
Clarena multopeptide eye pearls £25.00
Clarena eye line anti wrinkle actlift eye cream £25.00
Clarena eco line parsley eye cream anti wrinkle £24.00
Then you can always step up with your eye area care and get yourself a TREATMENT EYE SERUM with retinol for example or I would also recommend treating your eyes to a nice EYE TREATMENT AT HOME. And here I have created a bonus little video for you, on my YouTube Channel, which was added to my "SELF CARE FACIALS AT HOME"
And in this video I show the example treatment for the eye area which you can very easily do yourself at home.
YOUR EYES WILL THANK YOU FOR IT!
EYE AREA AT BEAUTY BY JOANNA – PROFESSIONAL BEAUTY TREATMNETS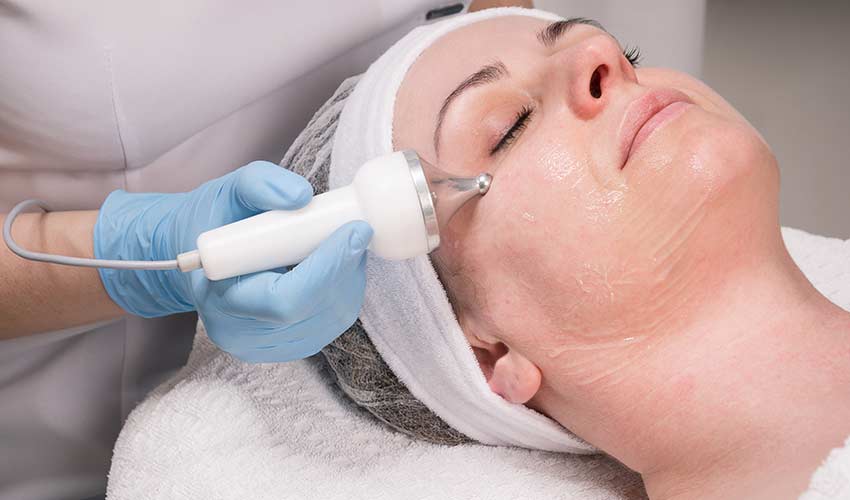 At my beauty studio I offer eye treatments usually as an add on option to the regular face treatments, but you can also come an eye treatment on its own.
Eye area massage – great to stimulate your muscles and lymph
RadioFrequency – great for collagen and elastin boost, reduction of fine lines
Ultrasounds therapy – great for pumping in quality active ingredients which will help the skin look much better
LED light therapy – great for regeneration
No needle Mesotherapy – great for boosting your skin with active vitamin cocktails
Masks – great for refreshing, smoothing and hydrating your skin
REMEMBER TO ADD ON EYE TREATMENT TO YOUR FACIAL!
As you can see there is plenty what you can do in regards of taking care of your skin around the eyes area.
I hope this post gave an idea on what is available on the market but remember, that you can always contact me if you have any further questions.
Thank you very much for finding time to visit my blog.
Joanna Bojarska – Beauty Expert